I missed Sarah Kate's third swim meet because I was out of town.  Mr. Andi was there, as were my mom and stepdad and (as always – bless his heart!), the baby.  Her times didn't improve much, but she did swim the full length of the lane during the freestyle without grabbing onto the lane rope at all, so that was good.  She finished third in one of her heats, which meant she got a coupon for a free Fla-Vor-Ice (we won't talk about the fact that there were only three girls in the heat).  The bigger news was that at practice on Friday morning, she was awarded "Best Effort" for her performance the night before.  She was very proud of herself, and I was happy to see that despite her slow speed and three week absence she was truly considered a member of FAST (Fairhope Area Swim Team).  The next week, at the last practice of the season, the coaches gave out a few awards.  Sarah Kate received "Most Inspirational" and while I was very proud of her, there was a tiny little part of me that felt that maybe she won that award as a consolation prize for being so painfully slow.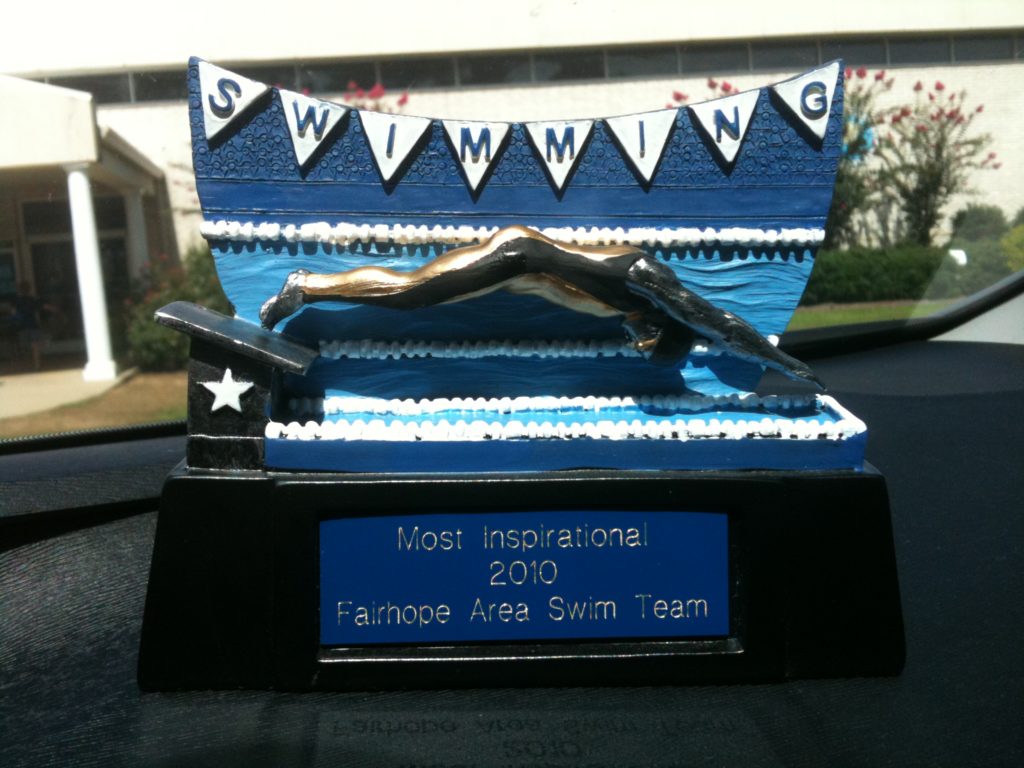 The final meet of the season was the big City Meet with all of the area teams.  It was a two-day (Fri/Sat) championship with the 10-and-unders swimming in the morning and was held in Gulf Shores (about 40 minutes away including the Chick-fil-A drive-thru pit stop).  Mr. Andi took Friday morning off so we could all load up and head down there.  When her 25 free event came up, I was ready with the camera at the end of the lane, doing my best not to get in the way of the timers yet still be where I could yell and hopefully have her hear me (and all the while trying very hard not to drop my camera in the water).  Coach Meredith, Mr. Andi, and I screamed and yelled and cheered her on.  She finished last, as usual, but while she was swimming I thought to myself "she seems faster today."  As soon as she touched the wall, I looked up.  1:02.98.  My initial instinct was that it couldn't be right, then that my eyes were failing me and I really need a check-up.  Then I heard the timer say "Wow!  You improved your time by 28 seconds!"  OMG!!!  It was true!  I rode the high for the rest of the day.
On day two of City Meet we got up early and schlepped the baby and all of his stuff back down to Gulf Shores.  Sarah Kate had stayed up late the night before and was dragging, unlike the first day when she was excited and pumped.  I really wanted her to beat her previous backstroke time, but I wasn't feeling optimistic.  She had been harassing me for two weeks to let her have the Toy Story 3 Wii game, so I decided maybe a little bribe was in order.  We did our pre-heat pep talk ("What's your motto?" – "Finish Strong!") and then I asked her how badly she wanted the TS3 game.  She looked at me tentatively and then I told her "If you beat your backstroke time, we'll get it for you TODAY."  She first got excited, then asked me what would happen if she didn't beat it.  The truth was that we were going to get it, anyway (hence the emphasis on the word "today"), but I didn't answer her.  As we headed over to the clerk of course, I noticed how many people wished her luck and high-fived her on the way.
I took up my station at the end of the lane again, and decided I would be much more aware of her time during the backstroke heat.  When she was near the midway point, she was under 30 seconds.  I tried not to think about what that might mean, knowing that she would probably lose some steam at the end.  When her hand touched the wall, I looked up.  54 seconds.  Under a minute.  OMG!!!  I grabbed her up and gave her a huge hug – not caring one iota that I would be soaked.
The previous day, I had talked to Coach Rich, the owner and head man at SWAT, a local year-round swim team.  Typically, year-round swim teams are traveling teams and are more competitive, so I wasn't sure how he would feel about having a disabled kid on his team.  I shouldn't have worried.  Not only was he receptive to the idea, but he wrote down both of her heat times and made a point of coming over to congratulate her after her backstroke heat.  I told two of her current coaches, Brittany and Meredith, that I was going to sign her up for SWAT and they said "That's fine, but you HAVE to come back to FAST next year."  They weren't teasing, either.  Both Coach Brittany and Coach Meredith had deadly serious looks on their faces when they said it.  It was at that moment that all of my pre-season worrying that they would consider her a burden was completely unfounded.  Not only was she not a burden, but they wanted her back.
Reflecting on the meet, I started flashing back to all of the people – swimmers, parents, and coaches – who had congratulated her or wished her luck.  In a world where people often don't know what to say or fear that they'll break her if they touch her, THIS GROUP GOT IT.  She's just a regular kid who can't walk very well or swim very fast.  I realized suddenly that the "Most Inspirational" award wasn't a consolation prize or a prop to fit the narrative of the disabled swimmer.  She really was an inspiration – not just to the other swimmers, but to the other parents, as well.  It was through her efforts that others were inspired to work hard and to do their best.
We left after Sarah Kate's heat, so I don't know if FAST won the city meet this year or not.  I'll find that out later today when we go to pick up her rainbow-colored participant ribbons.  What I do know is that the 10-and-under kids, who swam in the morning heats, kicked butt and FAST was leading before the older kids swam in the afternoon.  The 10-and-unders are the kids who practice with Sarah Kate every day.  Truthfully, it's probably not Sarah Kate's influence that helped them to succeed, but what if it were?
One thing I do know – she inspires me.