Sarah Kate has been looking forward to her First Communion, which was held this past Sunday, for about two years.  First Communion is when a person receives the sacrament of the Eucharist for the first time; in our church it's held at the end of the second grade school year.  The girls wear white dresses and the boys wear suits, and all of the children go forward to receive from the priest before the rest of the church.  Nana made her a beautiful dress and I bought a lovely headband with tiny flowers (on sale for $3 at Hob-Lob – SCORE!) Planner that I am, I had a vision in my mind of how this important religious milestone event would go.  Silly me.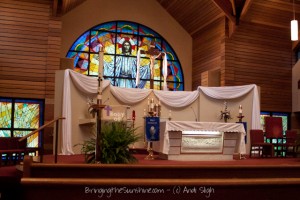 Eight things that were not part of my vision for the day:
Spending half an hour using baby oil, nail polish remover, Goof-off, and (finally) a pumice stone to scrub black ink off of Sarah Kate's fingers: I didn't think that hands stained with black ink, discovered that morning at the breakfast table, were appropriate for a first-time communicant.  At the very least, it would have looked horrible in the pictures, not to mention my fear that black fingers + white dress = potential catastrophe.
Having Sarah Kate ask me to take her to Reconciliation with less an hour to go before arriving at the church: After a recent unpleasant incident involving markers and a porch column, Sarah Kate apparently felt it was better to claim "I don't know what's on my fingers or where it came from" than tell the truth – a plan that backfired on her when I found the black marker.  She wanted to go confess the lie. Right. Then.
Being the recurring focus of 20 second-grade girls during Mass: We were sitting just behind all of the girls who were receiving communion for the first time.  Every noise that Nathan made caused 20 girls in white dresses to swivel their heads in our direction in perfect sync.
Coining a new word for our family lingo: Nathan gacked (another term in the Sligh Family Dictionary) all over Mr. Andi right at the beginning of Mass; the stench was exceptionally vile and pervasive.  Sarah Kate said later that it was like a vomit volcano – "A Vomit-cano!"
Discovering that 20 second-grade girls can all make the exact same face without even trying: As each girl finished receiving the wine, she turned back toward the row directly in front of Mr. Andi and me.  Almost every girl had the exact same "sour grapes" look on her face.  Sarah Kate later told me, "I didn't like the wine – it tasted like raw grapes!"
Clenching my teeth during Communion for no reason: My biggest fear going into the day was that Sarah Kate would stumble, trip, drop the host, spill the wine, or all of the above.  She didn't.
Recognizing my daughter's potential for public speaking someday: Each of the kids was assigned a specific task during Mass; Sarah Kate's job was to read a prayer petition.  Despite the fact that on the way to the church she kept saying "Easter Vig-u-al" instead of "Easter Vigil," she spoke her petition perfectly.  Her voice was loud enough, she didn't hesitate, and she articulated beautifully.
Realizing how lucky I am that perhaps the most beautiful girl in the world lives in my house and in my heart: Not only is Sarah Kate beautiful on the outside, but she's beautiful on the inside, as well.
Like most things in my adult life, the reality of Sarah Kate's First Communion only loosely resembled the vision I had in my head.  The variation didn't make it less meaningful, or less special, but it did make it more memorable.
Thanks be to God!