Okay, so maybe you haven't exactly been on the edge of your seat in anticipation, but I have gotten a few questions about it (questions like: "Why are you changing it?  I loved the old name!") so I thought it would be a good idea to explain why I made the change from "Double Dose of Special" to "Bringing the Sunshine."
First, you need to know that when I started DDoS, I had no plan, no vision, and no purpose statement.  I posted whatever came to mind, from original writings to personal photos to links I came across.  Friends and acquaintances began commenting on my posts, emailing me directly, messaging me on Facebook, and sharing my blog with their friends.  I was surprised when people said things to me like, "I shared your blog with a friend of mine – she really needs to read this right now."  I was amazed.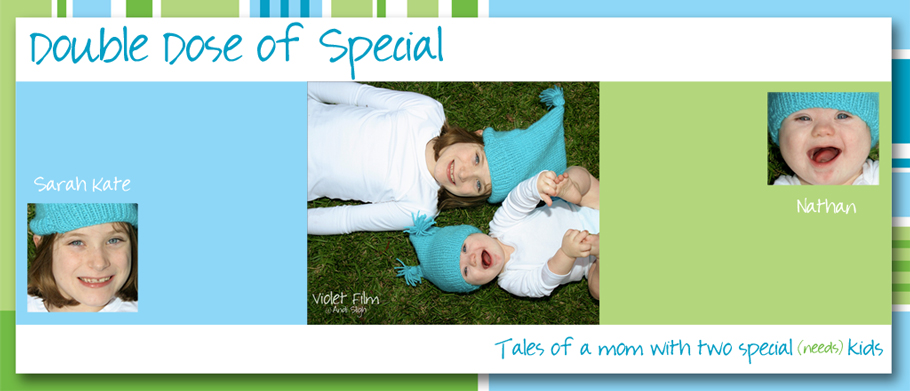 Now, I am blogging with a purpose: to inform and inspire people and advocate for individuals who are differently-abled.  My readership is not vast, but I have found my voice, and I've begun to see that I can do something positive with my blog that touches people outside of my immediate circle.
There are several reasons why I decided to change the name, and I'll run through them quickly (feel free to comment or contact me if you want more information).
And on a related note, the timing of the name change was purely practical.  I started out on Blogger, and while it's a great free platform (my photography blog, Violet Film, is still hosted on Blogger), I wanted more flexibility and control.  When I decided to switch from Blogger to self-hosted WordPress, I felt it was best to change the name at the same time.
I hope you like the new name and the design.  I'm a one-woman show, so the blog design work was all done by me with my 3-1/2 year old iMac during Nathan's naps.  I don't intend to make any significant changes to my blog content, although I have put myself on a stricter posting schedule, and despite the fact that my blog is no longer hosted on a free platform, I have no plans to turn it into an income-generating site.  I may, from time to time, try something to offset my expenses, but only if I'm comfortable that it fits with my purpose and doesn't detract from my message.
If you're a current subscriber to DDoS (or have it bookmarked), please update to Bringing the Sunshine now, while it's fresh on your mind, and if not – please consider joining up!
Thank you to everyone who has commented, emailed me, shared my posts, or just took the time to read what I have to say.  Please continue to do so!  Your feedback is critical in guiding the ongoing development of this site.  If you like what you see here, please consider sharing it with others using one of the social media buttons shown below every post – StumbleUpon and Digg recommendations are especially appreciated, although every share is welcome.
So now it's your turn – tell me what you think about the new site!