Several weeks ago at our local Special Olympics, I noticed a young girl with Down syndrome in a cheerleading uniform with "SPARKLES" in bold letters across the chest.  Then, less than two weeks later, I came across a blog post by Ellen of LoveThatMax.com about The Sparkle Effect, a student-run program that helps high school students across the country create cheerleading squads for students with disabilities.
I was curious.
I did a little research and was very impressed with the concept.  The organization was started in 2008 by two young women in Iowa – cheerleaders themselves – who decide to form a squad for students with disabilities at their school.  They were called the Spartan Sparkles.  Word spread of this new squad and the two young women began to hear from other cheerleaders who interested in following their model.  I was pleased to learn that the first one in our state (and the entire Gulf Coast!) is right nearby in Spanish Fort, Alabama.  I had a chance to catch up with the squad's sponsor, Cali Quinlavin, and find out more about the Spanish Fort Sparkles:
I was surprised (and impressed!) to find out that the only Sparkle Effect squad in the state was here in Spanish Fort.  How did you learn about the Sparkle Effect?  What motivated you to become involved with the Spanish Fort Sparkles?
Actually, my Special Education Supervisor sent me a link about a squad in Tennessee and said she thought this would be a great program to start.  I am the Speech Language Pathologist for the middle and high school as well as the current varsity cheer coach.  I love cheerleading, but not as much as I love children with special needs. I thought I would put these two loves together and it has been so rewarding!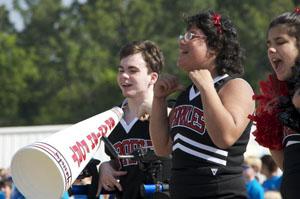 I understand the organization is student-led.  What motivated these students to become involved with the Sparkles?
All I did was ask my 2010-11 squad who would like to help get this program started.  Five girls eagerly said "Yes" and we began in December.  These girls are INCREDIBLE and deserve ALL the credit.  Mary Caitlin Robinson, Emily Harper, Savannah Merold, Katie Clark, and Jennifer Trenier.  They were already involved in our Project Outreach club and they are perfect representatives!!
How often do the Sparkles practice?  How much cheering have they done?
We practiced a few times in December and cheered and performed at halftime during home games for girls basketball.  Our plan is for the squad to perform at some of the home football games this fall.  They were also invited to cheer at the Baldwin County Special Olympics.  They represented Spanish Fort well and I was so very proud of them.  We all were.
How have the athletes reacted to the Sparkles?
The students and athletes at Spanish Fort are great supporters.  I hope they enjoyed us as much as the Sparkles enjoyed cheering for them.
Have you seen any changes in the young men and women on the squad?  If so, what?
They have always been sweet young people, but I think they have been able to participate in a social experience they normally wouldn't have been able to do before the sparkle effect came to Spanish Fort.  They have had the opportunity to meet more students and be recognized as cheerleaders and spirit leaders at school.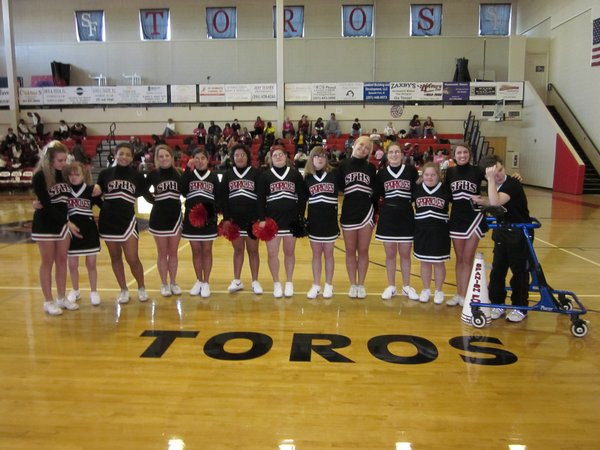 What challenges have you faced with this new organization?
Everyone, from the administration to the coaches have been welcoming and very supportive. Our parents have also been supportive, so I can honestly say we haven't faced any challenges thus far. Well, we do have financial challenges, but we will fundraise if needed. The girls and boy wear "real" cheer uniforms and cheer shoes. They also have poms, a cheer bag, and the boy has a megaphone that looks just like Varsity's megaphones. I never intend for the participants to pay a dime.
Anything else you would like for my readers to know?
Just how wonderful the students at Spanish Fort High School are with this population. I am very blessed to work at Spanish Fort and hope the Sparkles will be around for many years to come.
As do I!
Read more about the Spanish Fort Sparkles at BaldwinCountyNow.com: Spanish Fort Cheerleaders Sparkle
Photos Courtesy of Cali Quinlavin