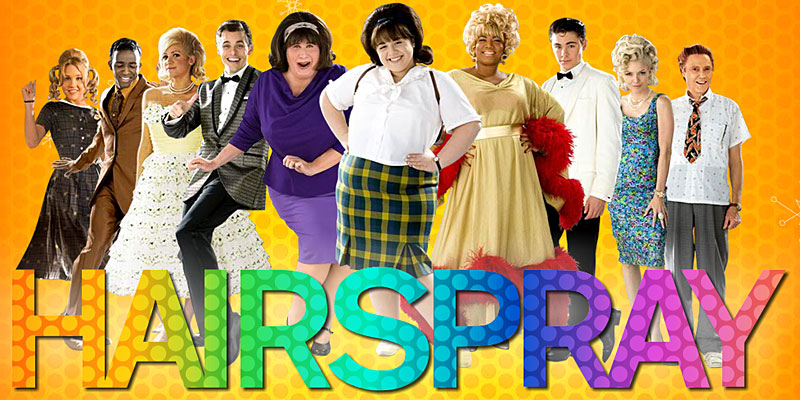 Four summers ago, the film adaptation of the musical "Hairspray" (itself an adaptation of a non-musical movie) was released. I vaguely knew what the storyline was – overweight girl who loves to dance, set in the civil rights era – and took Sarah Kate to see it. As expected, she loved the music and dancing and was completely oblivious to the darker theme of segregation in 1960s Baltimore.
We spent the entire summer (and most of the fall) listening to the soundtrack, belting out the songs as we drove down the highway (a pastime that Mr. Andi did not particularly enjoy). Eventually, "High School Musical" and Hannah Montana/Miley Cyrus tunes took over the playlist and "Hairspray" faded into the background – although I did revisit "Good Morning, Baltimore" the next fall when I ran my first marathon there.  Out of the blue, during dinner last night, Sarah Kate asked, "What's an integrated pool?"
I hesitated.  How should I answer that question? I have always wanted Sarah Kate to have an understanding of history, but I was afraid of the questions that might follow.  In particular, I wasn't sure how to answer the inevitable "Why?"
I asked her what she had learned about Dr. Martin Luther King in school. She had a vague recollection of him being a "nice man" until I reminded her that a few decades ago, she would not have been able to go to the same school as her friend, Gracie. Mr. Andi also told her that they wouldn't have been able to ride the bus together, eat in a restaurant together, or swim together. With that prompting, she remembered her prior lessons about Dr. King. The history refresher course on integration could have ended there, but I took it a step further.
"Did you know that were still some kids that weren't allowed to go to school with the other kids, even after integration?" I asked.
Sarah Kate answered, without hesitation, "Yes – the ones with Down syndrome and cerebral palsy and other disabilities weren't allowed to go to school with the other kids. That was wrong." She never ceases to amaze me in the way that she picks up on concepts that I thought were unknown to her. In that moment, I envisioned my (no longer little) girl not just mindlessly singing the Hairspray soundtrack, but doing so with a clearer understanding of the film's message.
♪ Would you swim in an integrated pool? ♪
♪ I sure would! I'm all for integration! It's the new frontier! ♪
In Sarah Kate's mind, there is no segregation.  She recognizes differences between individuals that make each person unique, but that's where the divisions stop. To her, kids are just kids – not "white kids" or "black kids" or "poor kids" or "rich kids."  She understands that they are all more alike than different. She doesn't see any reason why all children can't go to the same schools, restaurants, churches, and so on.
Unfortunately, not everyone feels the same way. Some people still believe that being different necessitates being treated differently; "separate but equal" was the mantra of segregation – yet it was anything but equal. Some parents would still prefer to keep children with special needs out of their typical children's classroom. A boy with cerebral palsy and his mother were recently escorted out of church on Easter Sunday. A young girl with Down syndrome was not allowed to travel on a British Airways flight recently, even though other children her age are routinely able to do so.
Oh, how I long for the day when everyone is willing to swim in the "integrated pool!"