In the summer of 1969, my mom was pregnant with me and working on her master's degree in education. As part of one of her courses, she previewed a new children's program that was to debut later that year. She fell in love with it instantly. The name of that show?
Sesame Street.
You know how some people say that a mom can "mark" her unborn baby with her thoughts? Well, I think my mom marked me with a love for Sesame Street. I watched it throughout my preschool years and I would even find myself turning it on occasionally when I was older. Much older. Like, in college.
C'mon, admit it. Grover is funny.
I love Sesame Street – and not just because it taught me about letters and numbers.  Sesame Street also led to a love for the Muppets. Even though I can practically recite it line-by-line now, I always go to the 3D Muppet show at Hollywood Studios when we visit Walt Disney World. As an adult, I love that Sesame Street includes pop culture icons (just recently, I turned it on to see Will Arnett playing a magician character – a really bad magician – which I loved because it was a throwback to my favorite sitcom, Arrested Development).  Although Elmo was introduced well after my preschool years, I like him, as well, because of his unbridled enthusiasm, youthful innocence, and genuinely sweet nature.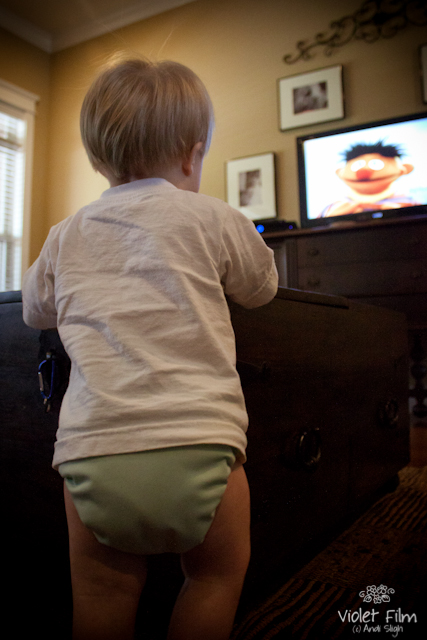 The wonderful thing about Sesame Street that I never noticed as a child, but which makes me love it even more today, was that it was a model of inclusion. Children with disabilities were routinely featured on the show. Today, over four decades after Sesame Street debuted, the idea of disabled television characters doesn't seem unusual. From Artie and Becky on Glee to Auggie on Covert Affairs to Jason on Friday Night Lights, characters with disabilities have become mainstream (though I do wish that all disabled characters were actually played by people WITH those disabilities). Back in 1969, schools weren't legally required to educate children with disabilities – that legislation didn't come along until 1975 – but Sesame Street taught all children.
Emily Perl Kingsley, who wrote the widely-shared "Welcome to Holland" about what the experience of raising a child with Down syndrome is like, was a writer for Sesame Street beginning in 1970, and wrote for the show for decades. Emily's own son, Jason, has Down syndrome and she promoted the integration of children and adults with disabilities into the show.
After Sarah Kate was born, I encouraged her to watch it. She, like most young children, adored Elmo and had a number of Elmo DVDs. I've got a few episodes on my DVR for Nathan right now. It's the only TV show in which he's shown any interest. I hope he grows to loves as much as I do.
Sesame Street didn't just prepare me for school by teaching me the alphabet and numbers. Sesame Street prepared me for mothering two children with special needs. Sesame Street taught me that inclusion is the ideal, and showed me that it can happen.
Sunny days, sweeping the clouds away…
Can you tell me how to get to Sesame Street?