Often, when I'm getting ready in the morning, I bring Nathan into the bathroom with me and shut the door to keep him contained. A few days ago, I was standing at the counter watching him while he banged on the door and made faces at himself in the full length mirror. I said his name, and he turned towards me and grinned. Although he was using his left hand to steady himself, I was struck by how much progress he continues to make on his journey toward independent walking.
I think most parents probably are at least a little awed by the steady progression from rolling over to walking – it's fascinating stuff. Those of us who have children who struggled to walk, however, have an in-depth understanding of the incremental achievements that must be mastered in order to reach the milestone that comes so easily to most babies. Oftentimes, our children's first steps are taken in therapy offices amid tears and accompanied by promises of stickers/favorite foods/trips to the zoo, rather than in the comfort of our living rooms.
As I watched Nathan standing there, twisted around to grin at me with a few strategically-placed fingers giving him confidence, I thought about how quickly it seems that we've reached this point. Sure, he is a little behind the curve, but I have no worries at all about whether or when he'll walk. Based on how much he enjoys moving rapidly around the house ramming push toys into the walls, I have no doubt he'll do it, and probably sooner rather than later (honestly, I dread it almost as much as I desire it).
I stood looking at him and thinking how easy things have been, compared to the early years with Sarah Kate. For her, everything within the realm of gross motor skills was difficult – she was almost one year old before she commando-crawled, was well over a year when she sat independently (and that was the dreaded W-sit that all physical therapists despise – "crisscross applesauce" didn't happen until she was three), and learned to walk mid-way through her third year. She still can't run or jump, and just recently mastered curbs. Nathan, on the other hand, still isn't even officially classified as delayed. He's The Typical One.
Except, of course, that he isn't.
Sarah Kate continues to make steady progress in the one area that causes her trouble, but she's Typical in every other way. Her distinctive gait isn't nearly as noticeable anymore, and many of the swim parents told me that they did a double-take when they first saw her at the pool this summer, because she'd improved enough that she mostly blended in with the others. She's never had any speech or cognitive challenges, so with each passing day she becomes more Typical.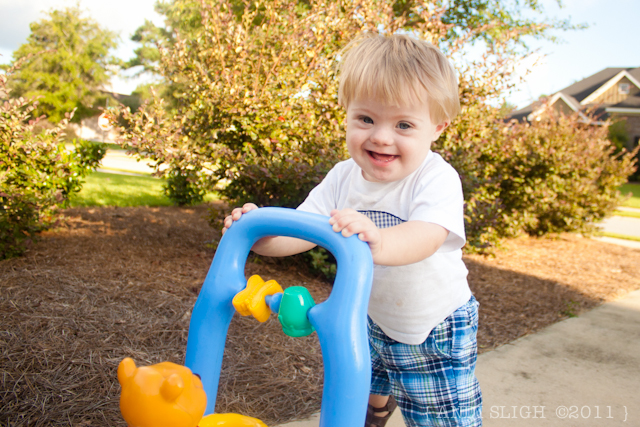 As for Nathan, I spend each and every day rejoicing in his accomplishments. I savor the moments when he does something new, and I take joy in knowing that he won't require invasive surgery in order to learn to walk. But my joy always carries with it a side of trepidation, because I know that the day is coming when he won't be The Typical One anymore.
Much like the milestone of walking that I want him to reach but simultaneously dread because I know my daily life will change forever, I have mixed feelings about the day when he won't be Typical anymore. In some ways, I want that day to come so I can quit dreading it's arrival and really know what I'm facing. Some days I even find it hard to deal with the fact that he's so Typical, because it's easy to slip into a dream world of believing it's permanent, when I know that it isn't and that one day my heart will break with the realization that he's not developing like his Typical peers.
So each day I look at my children and wonder to myself: which is The Typical One? And I think that the answer is simultaneously both and neither.