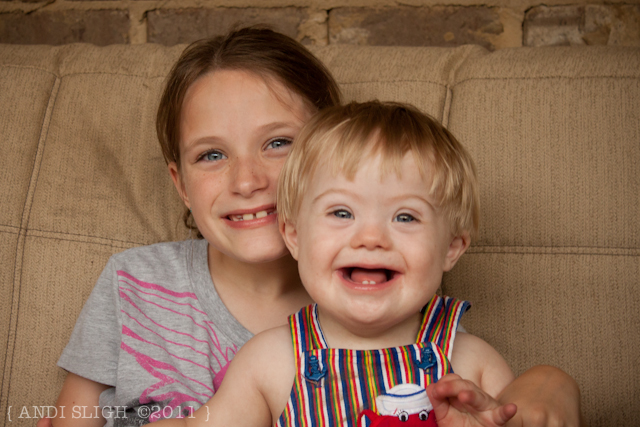 Recently, Shasta of Outrageous Fortune, one of the other bloggers on the Circle of Moms Top 25 Most Inspiring Families list, asked me:
Do you think the Down syndrome community is more cohesive than the cerebral palsy community?
She had noticed that many of the Top 25 blogs centered around a child (or two!) with a disability, but that the Down syndrome blogs outnumbered the others. Obviously, my blog covers both, so she thought maybe I'd have some insight into why that might be.
My first thought was that there were more families touched by Down syndrome, but my gut told me that wasn't the reason. A few minutes on Google confirmed that Down syndrome is less common than cerebral palsy. About 5,000 new cases of Down syndrome are diagnosed among children in this country each year, compared to around 10,000 of cerebral palsy.
Given those numbers, it seems that the cerebral palsy blogging community would be bigger. But, in my experience, the Circle of Moms list isn't an anomaly, but a microcosm of the blogosphere. I've found many more parents blogging and tweeting about Down syndrome than cerebral palsy – and I've been searching for both. Shasta's question prompted another:
Why is the Down syndrome community more vocal than the cerebral palsy community?
Before Nathan, I was an advocate for Sarah Kate, but I had different goals. I focused on protecting her and her needs (emphasis on "her"). I pushed her physically so that she could reach her maximum potential – to make her as "like normal" as possible. I worried about inclusion, of course, but she is intelligent and makes friends easily, so I never had any doubt that she'd fit in with her peers and lead an independent life. I kept a laser-like focus on treatments, emerging technologies, and research that could potentially increase her abilities. Only in rare, fleeting moments did I think of the larger cerebral palsy community.
Having a child with Down syndrome is different.
It probably starts at the beginning for most of us – the day that we discovered the alarming statistics on abortion of children with Down syndrome (~90% of in utero diagnoses). I remember where I was when I first read that number. It scared me. That number told me that society does not value my child. That number also roused my momma bear instinct.
I now have a fierce desire to be a Down syndrome advocate. I want people to notice Nathan and really SEE him. I want them to understand that eliminating this wonderful segment of our population is a tragedy. By contrast, cerebral palsy isn't detectable in utero. Children aren't destroyed because of cerebral palsy – not in 2011, anyway.
We in the Down syndrome community are focused on the bigger picture.
But there's one more thing that makes our community different from that of cerebral palsy, autism, and other disabilities. Many of those parents have faith that eventually a cure or treatment will be found for their child's condition. We don't. Our children are just who they are. Interventions will help them to maximize their potential, but there's no expectation of a cure, and we wouldn't want one even if it became available.
We expect our children to be accepted just the way they are.
The social media explosion gave us a venue for our voices to be heard and enabled us to share information quickly and efficiently. So, yes, I do think the Down syndrome community is more cohesive.
For our community to survive, we have to be.