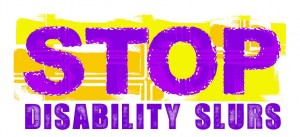 I was appalled by the revelation earlier this week that the Universal Pictures film "The Change-Up," starring one of my favorite actors, Jason Bateman, took pot shots at the intellectually disabled in general and Down syndrome specifically, both within the first fifteen minutes. Although I have not seen the movie, one viewer described the scene this way:
Ryan Reynolds who plays a bachelor who has never settled down, visits his long-time friend Jason Bateman; he sees his twins in their high chairs and says, "Why aren't they talking – what are they, retarded?" I thought that was offensive enough but then he says, "And this one, he looks Downsy."
I'm not a confrontational person, and I want this blog be a positive community, not a place where I constantly rant about injustice. I tweeted a few comments about it, joined the newly-formed Stop Disability Slurs group on Facebook, posted a few links about the controversy to this blog's Facebook page and my personal page, and decided I'd let it go at that. But when I woke up this morning, my feelings had changed. It dawned on me why Hollywood (and GQ, for that matter) would feel comfortable slamming people with intellectual disabilities without fear of retribution.
It's because they are cowards.
Do you think there's any chance that Universal Studios would have let the single male character say "Are you sure they aren't gay?" and "This one looks kinda faggoty"? The backlash would be so far-reaching that they'd never consider going there. Director/producer David Dobkin even admitted in an interview that he was concerned about the "Downsy" comment, but left it in because the test audience didn't complain. Instead of doing the right thing, he chose the gutter – for a laugh.
Coward.
What was the thought process for including that dialogue in the movie? I imagine that the writers/producers thought it was edgy humor that pushed the offensive envelope. It isn't edgy, daring, or creative to use "retarded" or "Downsy" as a punchline. It's unoriginal, cheap, and cowardly.
It's picking on a group that's unlikely to fight back – the dialogue equivalent of the bully in grade school.
Social media has faciliated a huge backlash, with advocates tweeting Universal Pictures, Jason Bateman, and Ryan Reynolds, posting on Universal's Facebook page, and emailing individuals involved in the movie. Universal has had nothing to say. Facebook threads were deleted and posting was disabled, tweets were ignored, and emails are now bouncing, possibly because they've also been disabled. Those of us who feel strongly that the language used in "The Change-Up" is unacceptable have stood up and said something. Will Universal Studios and the cast and crew of "The Change-Up" have the guts to stand up and defend their actions?
So far they're hiding. Because they're cowards.
Want to join the fight to stop slurs against individuals with disabilities? Join us.
**Disclosure: I have not seen the movie, and acknowledge that the quotes may not be exact. However, many other viewers have reported nearly identical descriptions.