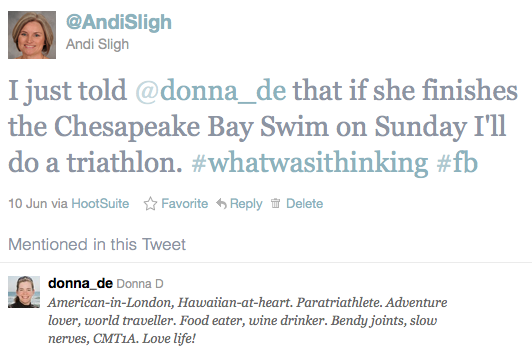 My enthusiasm following Sarah Kate's stellar swim meet performance earlier this summer led me to proclaim on Twitter that when my friend Donna completed the Chesapeake Bay Swim, I would commit to a triathlon. She did it, so…
It. Was. On.
Given that I'm a marathoner, it seems logical that I'd want to move up to a triathlon at some point, but I'm not a great swimmer. And by "not a great swimmer" I mean that I mostly do sidestroke and never put my face in the water. The only bike I own is a ten year old Raleigh M80 mountain bike that I hadn't ridden in about nine years. I discussed it with Mr. Andi and we decided to do a team sprint tri in September (he would swim and I would bike and run), then I would spend the winter working on swimming and do a tri on my own next spring.
My bike got a tune-up, some road tires, and new ergonomically-designed grips (because mine were…"sticky" from underuse), and I bought a mag trainer
so I could ride it on the back porch while Nathan napped or played with Sarah Kate inside. Mr. Andi told me I ought to be able to ride ten miles in 45 minutes (easily!) so I created a training plan for myself that went up to a max "brick" of 35 minutes biking and 20 minutes running.
Yeah, about that…
I didn't get my bike out on the road until a week-ish before the the tri and discovered that I was even slower on the bike than expected. A four mile ride took me 20 minutes. Do that math – it equals a 50 minute ride. I also realized with a week-ish to go that I hadn't practiced fueling or drinking on the road.
A few days later, I tried another four mile ride (this time with a water bottle – it wasn't pretty) with the same result – 5:00/mile pace. Oh, well. Not much I could about it at that point.
Triathlon Eve didn't go well. Mr. Andi ran a fever all day and I ended up taking Nathan with me to packet pickup. Upon arrival, I was greeted by a sea of awesome physiques and butterflies in my stomach. I knew I could run two miles, and I was (sorta) confident I could bike ten. It was the whole transition thing that had me freaked out. The relay packet line took forever, causing me to arrive late to the info meeting and giving me ample time to freak out a bit more. Oh, and of course, I couldn't hear squat from my spot in the back. Nathan was, of course, unfazed and spent the whole meeting grinning at everyone around us.
I felt better after seeing the transition area and headed home, confident I knew what to do and would be able to do it. However, at home, Mr. Andi looked like death and spent the evening under a blanket on the couch. I did all of my prep work other than apply my race number tattoos and vowed that I would do the distance on Saturday whether we made it down to Gulf Shores for the official event or not.
Want to find out how it ends? Then come back Tuesday for the race recap!