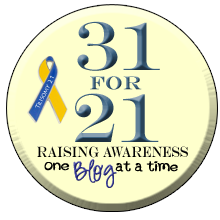 Thank you to everyone who hung in there during the 31 for 21 Blog Challenge to raise awareness for Down syndrome! I'm going to quickly recap the month's posts in case you missed any, and at the end will offer some final thoughts on the experience. Throughout the month, I…
…busted some common myths about Down syndrome
Trick or Treat: People with Down Syndrome Look the Same
Trick or Treat: People with Down Syndrome are Severely Mentally Retarded
Trick or Treat: Having a child with Down syndrome will ruin your life
…shared our life through images
Rethinking My Participation in the 31 for 21 Blog Challenge
…tackled some serious issues
MaterniT21 ™: The Prenatal Blood Test for Down Syndrome Is Here
In addition, I joined the series 7 Quick Takes, which was well received, so I decided to start my own Seven Snippets Fridays so that you guys could join in the fun. Come back on Fridays to link up (you can read more about it here).
I continued my weekly series, Sun-Beams, and threw in a few extra posts on random topics, such as Sarah Kate's newly acquired skill, my thoughts on a blog that I was pretty sure some of you guys read, a craft project I started, and a tribute to Steve Jobs.
Whew. I did more than I realized this month.
When I began the 31 for 21 Blog Challenge this year, I was…lukewarm to the idea. I wasn't sure I wanted to overextend commit myself to daily posts, because I wasn't sure I could create enough quality content. You will have to be the judge of the quality, but I can say that I haven't struggled to create – in fact, the new routine of posting daily actually made it easier for me to do so (who knew?)
Something else I've realized this month is that I'm at a crossroads with this blog.
Often, I feel like I'm "preaching to the choir" here, as the saying goes. Readers of my blog most likely agree with me about prenatal testing for Down syndrome and the power of language, and most have long since dispensed with believing the myths about Down syndrome.
A small part of me wonders if my blog needs to be more universally appealing, promoting the idea of "more alike than different" (yep, that's right – I just said that in at least one aspect this blog should be more like KH's blog). That part of me wants to work a little bit harder on my photography and spend a little more time writing humorous posts to which most moms can relate.
Another part of me, though, knows that I can't just sit on the sidelines and keep quiet about the hard truths of our society that those of us in The Club can see so clearly.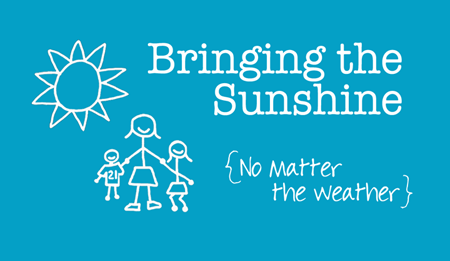 So on this last day of the 31 for 21 Blog Challenge, I'd like to open the floor – I want to hear YOUR thoughts on Bringing the Sunshine.
What topics would you like me to cover here in the future? Is there an idea I've presented that you'd like to hear more about?
What questions would you like to ask? You name it and I'll do my best to cover it – don't be afraid to ask the tough questions.
And finally…how can I help Bring the Sunshine to your life – no matter the weather?
Prefer to ask me a question or send feedback privately? Use my contact form or email me at andi (at) bringingthesunshine (dot) com.