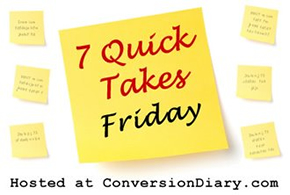 So the one and only comment about last week's new feature, 7 Quick Takes, was positive, so I'm guessing….you liked it? Or maybe….you were afraid to hurt my feelings by telling me you hated it? Give me some feedback so I don't run with scissors here!

SHAMELESS SELF-PROMOTION ALERT: The Parents Magazine Best Special Needs Blog contest ends TOMORROW and I would really, really, really love it if you would head over and vote for me (you can wait 'til the end of the post and click on the big pink button if you want!) As of late Thursday afternoon, I was nowhere close to winning 🙂 BUT…I was VERY close to breaking the Top Ten! Translation: Number 11. I don't care about winning (well, maybe I care a little…), but I care a lot about the potential exposure of my message. And if you've already voted, I heart you!
If you were paying attention on Tuesday, you noticed that I had a mini-FAIL when I didn't post for the 31 for 21 Challenge. If you didn't notice it on Tuesday, you may have noticed it on Wednesday when I posted TWICE. That still makes me 14 of 14, right? Unfortunately, if you are an email subscriber I think you missed one of the two posts – you can find "The Power of Language" here.
A big THANK YOU to Sue, a teacher at Nativity Catholic School in Cincinnati. She shared my post, "Words," from earlier this year with her students and many of them left comments on it yesterday. Go here and here to read what the students had to say (scroll down to the ones that start on October 13).
My speaking engagement at the Hickory Flats MOPS group went well, as did the session I facilitated at Georgia Highlands College in Cartersville. In fact, it went so well that the site director of the Marietta campus tried to book me to come there the next day. Unfortunately, my returning home schedule and his ability to find space didn't mesh, but on my next visit to Atlanta we may try again.
You may have noticed my past references to living in Mayberry. Well, I don't actually live in Mayberry (I think that was supposed to be in the Carolinas, right?), but I do live in a quaint small town with some unusual characters and a rich history (but no Andy – our police chief's name is Bill and he came here from the actual CSI: Miami two years ago). Well, we are now famous! In addition to being the location of season 1 of the hit reality series, Sweet Home Alabama (season 2 begins next Thursday, October 20, on CMT), our high school football team's game against our archrivals was televised last night on Fox Sports South. Needless to say, there has been mayhem and madness in Mayberry.
Remember the review and giveaway I did of Amy Julia Becker's new book, A Good and Perfect Gift
? If you choose to read it as part of a book club, or just want a guide to delve deeper into the book, go to her website to download questions for discussion (they are in a download link below the press release).
For more Quick Takes, visit Conversion Diary!