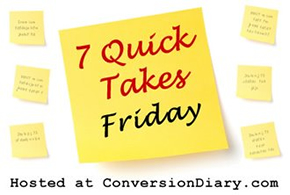 Apparently, my Why I Don't Hate Kelle Hampton post caused a bit of a stir on Tuesday. I hope I didn't alienate too many of you (of course, if I did, then you probably aren't reading, are you?) I don't have anything against KH, and if she inspires you, more power to her! Everything I'd seen about her before was either gushing praise or biting hatred – I was hoping to strike a happy medium. One thing I DO like about Kelle's blog: Nella's birth story. It's raw emotion, even though I can't quite relate to wearing a tiara after giving birth.

Let's talk about Glee. I can't decide if I like this show or not. On the one hand, I'm thrilled that they have the character of Becky Jackson, played by Lauren Potter, but on the other hand, it bothers me that they have an able-bodied person playing the character of Artie. Of course, it would be more difficult to find a "typical" person who could play an individual with Down syndrome because of the distinctive physical features. Almost makes me wonder if they chose Becky/Lauren because Down syndrome is easily recognizable – even people who don't know what Down syndrome is know someone who has it when they see them. What say you?
Remember last week's Trick or Treat: People with Down Syndrome Look the Same? And remember how I said people with Down syndrome look more like their families than they do other people with Down syndrome?
Another week, another comedian engages in jackassery at the expense of people with Down syndrome. This time it's Ricky Gervais. I've been struggling to remain a loyal viewer of The Office (US) ever since the whole Michael Scott Paper Company shark-jumping debacle, so I'm a bit relieved that I can now close that chapter of my TV-viewing life. Kudos to Gervais for achieving what Steve Carell's departure could not – enabling me to stop watching The Office without any regrets. Pssst….Ricky – if you're going to go out of your way to be offensive, at least have the guts to own it (but, of course, I know you won't, because you're a coward).
Awhile back, I learned about the Flemish painting, The Adoration of the Christ Child, believed to be one of the earliest painted portrayals of Down syndrome. For a few weeks after I first saw it, I was O-B-S-E-S-S-E-D with finding a print of the painting. On Wednesday of this week, I saw a reference to the painting on the blog Down Wit Dat and decided to try again. I went back to the Met's site, hoping to email someone there, and noticed a fabulous little download arrow at the bottom of the screen. One quick click and I now have a 3MB printable jpg file of the painting. SCORE!
Am I the only one who "gets crafty" only in spurts? There are about five days out of each year (on a good year) that I become uber-crafty, and this week is the week! While Sarah Kate was at PT on Wednesday, I went to JoAnn and bought fabric to make a camera strap cover for me and Halloween costumes for the kids. I documented the Great Camera Strap Sewing Adventure with my camera and plan to post about it tomorrow. Said adventure has absolutely nothing to do with Down syndrome, cerebral palsy, or pretty much anything else I normally write about, but I thought you guys might want to see what reading KH's blog motivated me to do. 🙂
I haven't gotten any negative comments about 7 Quick Takes so far, and a couple of you have actually mentioned doing the same thing on your blog. The 7 Quick Takes linky is hosted by Conversion Diary, which I love, but it's a COMPLETELY different niche from the topics at Bringing the Sunshine, so I've decided to start my own, similar linky over here. Seven Snippets Fridays will start next week – come back then and link up!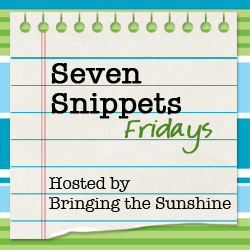 For more Quick Takes, visit Conversion Diary!