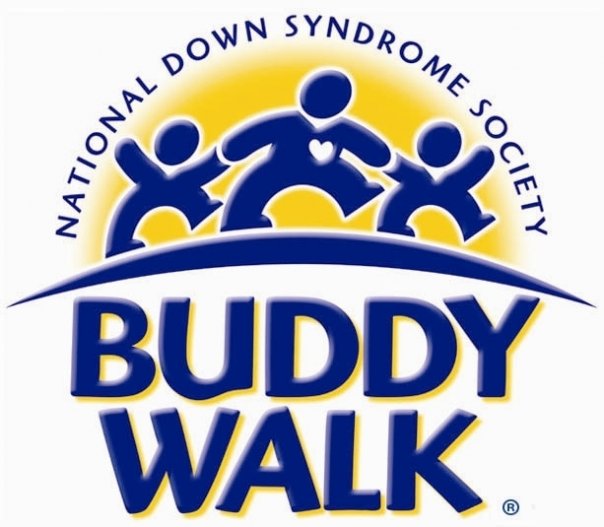 This past Saturday marked our family's first Nathan-centric Buddy Walk. The Buddy Walk was created by the National Down Syndrome Society in 1995 to promote acceptance and inclusion of people with Down syndrome. Monies raised at Buddy Walks benefit local programs and services, as well as the national advocacy and public awareness initiatives of the NDSS that benefit all individuals with Down syndrome.
Last year, we participated in the Gulf Coast Down Syndrome Society's Buddy Walk over in Gulfport, MS – we "piggybacked" on another team, Christian's Crew. Although we enjoyed spending time with Christian and his family (friends of friends), we decided that this year it was time to form our own team.
Unfortunately, the Buddy Walk date wasn't great for a big chunk of our family and friends. October 15 is opening day of bow season down here (deer hunting, for those who don't know), and my grandmother's 90th birthday party was also planned for the same day (350 miles away). And, of course, most of my friends have school-age kids who play soccer or football or some other sport on Saturday mornings during October. When we registered, I honestly wasn't sure if anyone other than our nuclear foursome would show up, but we plunged in with both feet, anyway, in hopes of meeting other local families touched by T21.
Despite the many conflicts, I'm pleased to say that we had a great, if small-ish, turnout for our team, Powered by Nathan. My best bud from our years in Decatur came from 350 miles away, along with her daughter, as did my mother-in-law. Neighbor Girl and her mom joined us, as well. In addition, Sarah Kate's current physical therapist came out with her son, as did her long-time physical therapist from Children's Hospital in Birmingham. Yes, that's right – Miss Carrie drove 250+ miles each way, just for the day, to join us for Nathan's Buddy Walk (Bonus: Miss Carrie is SUPER FUN!)
What I Loved About the Buddy Walk
Being surrounded by friends and family on a beautiful Saturday morning.
Looking around at the diversity to be found within the faces of the "buddies" and their friends and family members.
Having ample opportunities to shoot for my 365 project.
Knowing that there wasn't a person there who would have rejected or mocked my son because of his extra chromosome.
What I Didn't Love About the Buddy Walk
Only one thing – knowing that although the combined population of Mobile and Baldwin Counties is around a half million people, only a few hundred came out to experience the Buddy Walk. The Buddy Walk's current tagline is "Get Involved. Be Inspired." So many people missed out on the opportunity to be inspired.
One of the greatest things about the Buddy Walk – for me, at least – was that it gave me the chance, even if just for a few hours, to live in the "Buddy Bubble" – a place where everyone celebrated, loved, and embraced people with Down syndrome.
Want to learn more about the Buddy Walk or find a walk near you? Visit BuddyWalk.org.
Want to donate to Powered By Nathan?  Visit our team page here to do so – no pressure!