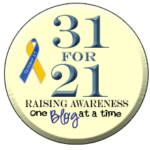 In 2008, Sarah Kate participated in an intensive physical therapy program (four hours per day, five days per week, for three weeks) at Children's Hospital in Birmingham.  In addition to the Adeli suit and the typical weights and pulleys, the therapist worked with her on riding an adapted bike. We offered to buy her a "big girl bike" at the end of the program as a carrot to keep her working.
At the end of the three weeks, we purchased a brand-new Specialized Hot Rock bike, complete with training wheels and a flower basket
on the front, sized with "room to grow." The bike shop added clips, as she didn't have enough foot control to keep her feet on the pedals without them. Shortly thereafter, we moved to the gulf coast to our Mayberry-like pedestrian community.
I dreamed of leisurely cycles around town with my girl. We bought a house in a subdivision with a lot of kids, and I envisioned her biking around the neighborhood with her friends. Sure, she'd have to keep the training wheels on for a lot longer than the other kids, but she'd be mobile. She'd be active. She'd be having fun while working her little legs. Everybody wins!
Except it didn't quite happen that way. She was petrified of falling and squeezed the hand brake unnecessarily. Even with clips, she struggled to keep her feet on the pedals. While fretting about her feet, she looked down toward the ground instead of the road ahead of her. I had to walk beside her, ready to grab her in case she went over, or to give her a little push to keep her moving.
It was disheartening.
After Nathan was born, I gave up on the bike entirely, and Sarah Kate didn't seem to mind. It sat in the garage for over a year. The tires deflated. The pink handlebar grips turned to sticky mush. One of the flowers fell off of the basket and was lost. It broke my heart each day to come out and see that beautiful bike sitting there, unused and neglected.
After the triathlon last month, Sarah Kate became interested in the bike again. She asked several times if she could ride it, but I changed the subject, not wanting to face more bike heartache. Finally, I caved and promised to help her. Mr. Andi reinflated the tires and adjusted the seat.
Climbing onto the bike is difficult for her – she can't swing her leg over easily because of the spasticity caused by the cerebral palsy. I helped her on and we eased the bike down the driveway to the street. To my surprise, she pedaled – mostly smoothly – and didn't look down at her feet. We made it to the end of the street and she turned the bike in a wide, slow circle for the return trip. She told me she'd been working on riding a bike at school with Mr. Bill, her adaptive P.E. teacher.
After a little while, she complained that she was tired and we went home. The next day she wanted to ride again. And again. And again. I began to let her ride without me by her side. She rode further, faster, and more smoothly.
The day I thought would never come had arrived.
She was riding a bike.
So many times over the past eight years it's seemed like Sarah Kate had hit a plateau. My head told me, "This is it. She'll never be able to do more than what she's doing." But I've been wrong time and again. I thought she'd never be able to step up on a curb without assistance – now she does it every day in the school car line. I thought she'd never be able to jump, but she's now able to get both feet off the ground at the same time, sometimes. I thought riding a bike was out of her reach, but she's doing it – and she's asked to ride every day since that first day last week.
My kids do things in their own time. I just have to believe they can.