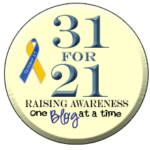 I admit it. I'm a bit of an Apple fangirl. I've owned two Macs, multiple iPhones, AppleTV, and an iPad.
I'll admit something else. I'm pretty sure that I'm addicted to all of these gadgets that Mr. Jobs brought to our world, especially the iPad. Whether I'm playing Angry Birds, reading blogs or a book, tweeting, or watching episodes of my fave canceled show, Arrested Development, my trusty piece of shiny touchscreen goodness is with me.
But the iPad has a more noble function than entertaining me: the iPad is a special needs godsend.
Communication equipment for children and adults who struggle with speech has long been available, but prohibitively expensive and frustratingly cumbersome. Apps like Proloquo2Go provide an affordable alternative to these traditional devices. Ellen Seidman of Love That Max has a more detailed explanation of how the Proloquo2Go iPad app has helped her son, Max, who has cerebral palsy. Another Texas mom has high praise for what the iPad has done for her four year old son with Down syndrome.
Educational apps abound, as well, and are particularly beneficial for children with Down syndrome, who tend to be visual learners. And you know what else?
iPads are cool.
An iPad doesn't scream "assistive device" or "disabled person" because it's a consumer device. An iPad also doesn't look like therapy. It looks like fun.
I've begun downloading some apps for Nathan, who is enthralled with the iPad (I dare not leave it unsupervised within reach of his tiny hands). Some are interactive books. Others are flash cards with sound. Another is for doodling – a tool for practicing fine motor skills without the mess of fingerpaint. My sentimental favorite app is Love You to the Moon and Back, an interactive book based on the artwork of Sue Shanahan, which includes beautiful images of children with Down syndrome. Sue came across my blog recently and generously gifted the app to me.
Godspeed, Steve Jobs.
Thank you for making my life more fun and more beautiful. But even more importantly, thank you for opening up a whole new world to so many special children.