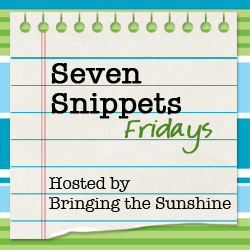 First things first: if you're joining Seven Snippets Fridays for the first time, be sure to read this post for tips on how to quickly and easily post your own Seven Snippets. The linky widget to share your post here is found at the bottom of this post.
Remember last week when I got all crafty and tackled the DIY camera strap cover? Well, the crafty urge hasn't left me yet, so my next project is going to be to convert an ordinary purse into a camera bag. I'm using this DIY camera bag tutorial as my guide, and I've got two purses to choose from (pics below). Help me choose! I wear a lot of blue, and the blue bag has bigger side pockets, but on the other hand…the purple bag is a little taller and may be a little sturdier for the long haul (added bonus: it has a shoulder strap).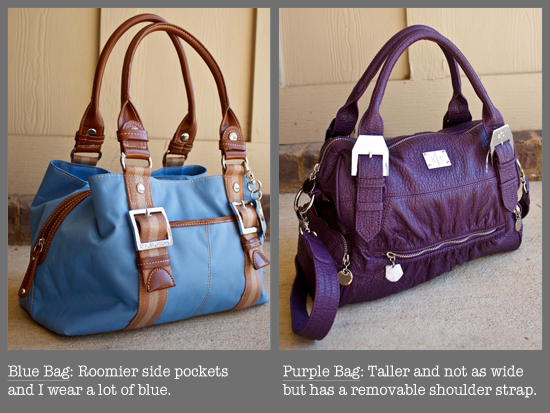 Speaking of craftiness…I finished the Pebbles and Bamm Bamm costumes. I think they turned out pretty good, and best of all, they were cheap and quick to do. Oh, and did I mention that I decided to attempt a Dino outfit for the Westie? We shall see. I'll have a pic of both kids next week, but until then here's a sneak preview of Sarah Kate with Neighbor Girl H.
I was very disappointed to find that IronGirl doesn't have a triathlon scheduled for New Orleans in 2012 like they did in 2011. I had hoped that event would be my first solo triathlon. The closest IronGirl triathlon to me now is outside Atlanta – six hours away.
Have I mentioned lately what a STINKER Nathan is? We've been trying to get him to sign words like "more", "milk", and "eat" for months, but instead of doing the signs, he just smiles in response. It's an intentional smile – if he wants milk and you sign "milk" he smiles if he wants it. Well, he proved to us this week that for him it's all about "Want To" – he learned how to High Five in about 15 seconds, and last night when Sarah Kate signed "good night" to him for the first time, he signed it right back. Stinker.
Sometimes you just don't know where a certain path will take you. In 2008, I was recommended, then slated, and ultimately elected as the national vice president for administration for my sorority. At the same convention, an amendment was passed to change the NVP for administration (essentially the national secretary) to the national vice president for communication. I'm now over halfway through my second term and have learned a tremendous amount about writing, communication, social media, and branding. Some people would look at my volunteer time in this position and think that I haven't gained anything, but I disagree – this blog is proof that I've gained a lot.
I can't believe I've now passed Day 300 of my 365 Day Photo Project. I had doubts when I started that I'd make it past 30 days! Before long I'll need to start thinking about what to do when it's over. Should I keep going, incorporate the photo project into this blog, choose a theme, or something else altogether? One thing is for certain: I'm glad I've taken so many pictures this year, especially of the little things.
Link up your own Seven Snippets below! Be sure to link to your post, not the main page of your blog.