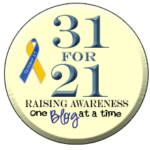 Sun-Beams is a collection of links to stories, articles, photos, or videos I have come across that inspired, informed, or encouraged me, or just caused me to think, as well as my favorite photo posted on my other blog, Violet Film, from the past week.
Blind Lexington athlete making history with dog – This story may be my favorite Sun-Beam link of the year!
SMU Coach surprises inspiring kid beating the odds
Galway girl hailed as an inspiration to those with Down syndrome
Thomas Jones: Inspiration for others with Down syndrome
Down Syndrome: I was never given the chance to learn to read — but I know I'm able for it
Ricky Gervais apologizes – He was pretty adamant in defending himself initially, but I'm giving credit where (I hope) credit is due.
Another Week, Another Group of Students with Down Syndrome Elected Homecoming Kings/Queens – three new stories below (but as wonderful as these stories are, I long for the day when stories like these are no longer "news" and just a normal part of life).
Student with Down syndrome elected homecoming king
Student with Down syndrome named homecoming king
Students chose character over grades and to elect as homecoming queen – Hmmm….not sure how I feel about this story. I'd love to hear your thoughts on what the school/students did.
Senior with Down syndrome voted onto homecoming court – Narrowly missed winning, though she swept the vote of the senior class
Photo of the Week: