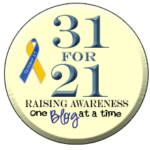 As part of Down Syndrome Awareness Month, I'll be posting a series, "Trick or Treat" throughout October to expose some myths about Down syndrome. I hope that you'll find it helpful and informative.
Myth: People with Down syndrome are always happy.
I can assure you that this widely-held myth is absolutely not true. I even have proof. 🙂
People with Down syndrome experience a full range of emotions, just like chromosome-typical people do. They experience joy and heartache, happiness and frustration. They can be stubborn and sweet, sneaky and charming. Even at the tender age of eighteen months, Nathan experiences all of these emotions and more (especially "sneaky and charming").
The Origin of the Myth
I'm voicing my personal opinion, based not on facts but on my experiences and anecdotal evidence. What I've witnessed in my interactions with people who have Down syndrome is that they seem to be predisposed to being pleasant – it's like happy is their default setting! A woman named Julie that I met several months ago who has Down syndrome described it as having the "the love chromosome." My belief in a God that doesn't make mistakes tells me that she's right, but a little part of me wonders if the perception of "always happy" is more of a reflection on the rest of us – maybe we aren't happy enough, because we're jaded, or too driven, or we spend too much time dwelling on disappointments and imperfections in our lives to embrace what we've been given.
What has been your experience in your interactions with people with Down syndrome?
Other Posts in this series:

Trick or Treat: All Look the Same