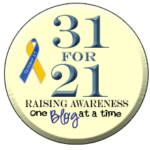 Late yesterday afternoon, I took my children and my camera outside during the last "golden hour" before sunset and took some photos. On my 365 project photography blog, I posted the following photo of Sarah Kate creating a chalk masterpiece on the driveway.
Let me just say: I loved the image. I hurried inside to post it and then went back out to call her in for dinner, at which point I was able to see her finished artwork:
"Mommy blogs" – cute, right? But nearby I saw this one:
I'm now wondering if I need to rethink this whole "blog every day for 31 days" thing.
What do you think?