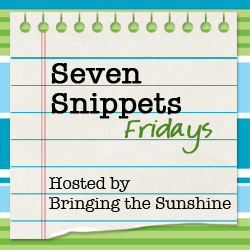 Who scored some super Black Friday deals at an ungodly hour today? Yeah, not my thing. But I'm sure I'll be venturing out later today with my sister for a little shopping once the hard-core folks have crashed. My sister is a shopping maven, but thankfully she also values her sleep. 🙂
— 2 —
Yesterday, the Baldwin section of the Mobile Press-Register newspaper ran a story "above the fold" on the front page about our family. It was a  really nice piece on thankfulness with a big photo. You can find the online version here on AL.com.
— 3 —
So you probably already know that I maintain a separate blog for my photos to document my 365 project. I also participate in a great community for other 365-ers, called Capture Your 365. One of my photos this week was a hit with some of the other folks in the community, and one of the comments I received was "Love! It's very Kelle Hampton-like.  Do you follow her?" Oh, my.
— 4 —
Who is watching Hart of Dixie on The CW? It wasn't filmed here, but I'm pretty sure that someone involved with the project had Mayberry in mind. It takes place "on the eastern shore of Mobile Bay" (check!), in a town whose big football rival is nearby Daphne High (check!), and whose school colors are blue and gold (check!) I'm not sure I'm thrilled with the portrayal, but the show is cute so I'm giving it a chance.
— 5 —
If you run, did you Turkey Trot yesterday? We didn't – no turkey trot available – but we're planning to venture out on Saturday morning for the Skinny Turkey 5K. It'll be the first time I've done a Thanksgiving-themed race in several years, and the first turkey trot I've done with my sister.
Both Mr. Andi and my mom are putting some major pressure on me to give them ideas for Christmas gifts for me, but I'm having a hard time coming up with anything this year. There are things I think I might like to have – some new clothes, a new lens, a Keurig machine, a Kindle (or Nook) – but I rarely wear anything but tees and athletic pants/shorts, I need to improve my photography skills before I extend my photography gear collection, since I have to stick with decaf or half-caff the variety of Keurig flavored coffees is much more limited (plus I drink Aspire coffee almost exclusively, so that takes away some of the K-cup convenience appeal), and I already own an iPad. Are you asking for anything special this year?
And finally….we're going to see The Muppets today! I think I'm more excited than Sarah Kate is. I heart the Muppets.
Link up your own Seven Snippets below! Be sure to link to your post, not the main page of your blog.
Looking for a Seven Snippets template or graphic? Go here for some quick tools to create your own Seven Snippets post.