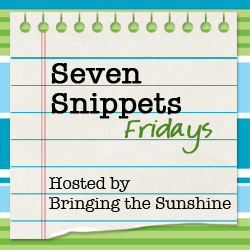 So apparently, there's controversy brewing in the interwebs about Target opening at midnight on Black Friday this year, instead of their usual ridiculously early morning opening. The anti-midnight crowd asserts that Target is ruining people's family Thanksgiving by pulling them in to work. I don't quite "get" the outrage. If a Target employee has to go in to work at 11pm then they aren't really missing Thanksgiving anymore than if they went to bed early in on Thanksgiving because they were going in at 4am, right? I understand the whole "family is sacred" thing – really, I do – but is Thanksgiving Day really any more sacred than Sunday? Target has been open on Sundays for years.
Personally, I don't get the difference between midnight and 4am. They both honk if you've gotta work.
I have an upholstered bench in my bedroom that I inherited from my grandmother. I plan to recover it, but haven't gotten around to it yet. Last Wednesday, I put on a long sleeve T-shirt to drive Sarah Kate to school, then took it off and laid it on the bench when I got back home. Between the stomach flu, my trip to Houston, and the fact that until today it was too hot for long sleeves, I never got around to putting the shirt away. This morning I grabbed it and put it on and immediately realized…it smelled like Mimi.
Now I'm not sure I can bring myself to reupholster the bench.
— 3 —
Thursday's post, So Why Don't You Want One?, was really just me rambling – no conclusions, only debates in my head – but it clearly struck a nerve with some of you. I hate the fact that I wonder if people really mean it when they tell me my son is cute. And I really hate that I may have made reader Maggie wonder if people are thinking the same thing about her daughter. 🙂 But I'm glad I gave you all something to think about – you gave me much to consider, as well.
It occurred to me a few days ago that by calling this feature "Seven Snippets Fridays" that I may be discouraging some of you from posting and/or linking. Even though the graphic says Fridays on it, I leave the linky open all week, so you can join whenever you want. I'll even tweak the graphic if you want me to. 🙂
One week from today we'll be in the throes of the holiday season. I've been thinking: dare I use my blog for the annual Festivus Airing of Grievances? Oh, wait. Never mind.
It dawned on me this week that the Walt Disney World Marathon Weekend is only seven weeks away. Not a big deal for me – I've already run one half marathon this fall, so I'm in good shape. You know who isn't in good race shape? Nathan. After his stellar diaper dash performance last year, I committed him to the 100m dash for 2012. I'm beginning to wonder if I'm going to have to bring a zebra ride-on toy for him to push, since he hasn't shown any motivation to walk without it.
Finally, the obligatory What Does Andi Think About the Penn State Story snippet: I've resisted saying anything, because so much has already been said, but there's something (other than the obvious!) that bothers me. Several days after the news broke, I started seeing articles about the psychology of silence with headlines like "Why Doing the Right Thing Isn't As Easy As It Seems."
Really? Call me crazy, but I don't believe it requires a lot of moral courage to take the easy way out. That's why it's courageous – because it's hard.
Link up your own Seven Snippets below! Be sure to link to your post, not the main page of your blog.
Looking for a Seven Snippets template or graphic? Go here for some quick tools to create your own Seven Snippets post.