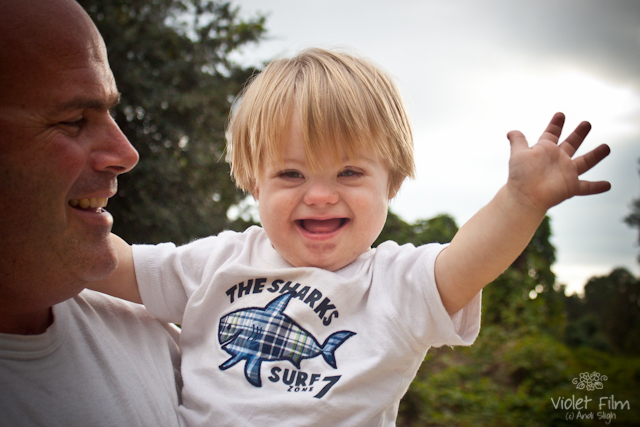 On Tuesday morning, Nathan and I went to the grocery store. Typically, we arrive early when there aren't many shoppers, but I had coffee with friends and showed up later in the morning. Nathan was on a roll. His new thing is waving, so he grinned and waved at every person we came in contact with while navigating the aisles. His wave is like a dog's tail – his enthusiasm causes his arm to move his whole body. By and large, he received positive feedback (which is what kept him doing it, of course) and time and again I heard
"He's so cute!"
We get that a lot.
Now, I don't want to be too suspicious of people, but sometimes I wonder how many of them really mean it. He IS a super cute kid, so maybe they all do. Maybe they see an adorable blond dynamo, not Down syndrome. Maybe I'm overly sensitive and people really aren't thinking anything other than "He's so cute!"
But my gut tells me something different.
A lot of these smiling people are genuine. It shows in their faces, the questions they ask, and how they linger and engage with Nathan. For others, I often feel that "he's so cute" is simply a filler that people throw out to be nice, because they don't know what else to say. Many of them probably walk away and never think of us again, a few may briefly thank the Creator that they aren't me, and others may wonder if the lab made a mistake in my prenatal testing (because surely I would not have chosen to have a child like that!)
Maybe they mean it, or maybe it's just one of those things that people say to make themselves feel better.
I met a woman recently whose family was affected by a horrific car accident that left her daughter with brain damage. We talked about why, when you're facing difficulties in life, people say, "God only gives you what you can handle."
It's a well-meaning sentiment, but it rings hollow.
This wise lady gave me her take: she said that it's not about making the hearer feel better. It's about reassuring themselves that they aren't ever going to face what you're facing. Because they don't believe they can handle it, so they are reassured that God won't give them that challenge.
It's not unlike the oft-repeated phrase, "God only gives special children to special people." First, it's simply not true – some horrible parents do have special children. A little part of me thinks that when people say that, they're saying that I'm different from them – special in a way that they are not – and because they aren't "special", they can breathe a sigh of relief that they won't ever have to face the challenge that I'm facing. As much as I appreciate a compliment, I don't ever want to be placed on a pedestal.
But since when does "difficult" equal "undesirable"?
Plenty of things about life are difficult, and we choose many of them – marriage and childbirth, to name two. Both are challenging; both are worth the effort.
Anyone who's ever run a marathon will tell you that it's difficult – the training eats up a lot of time, your muscles ache, and your mind screams at you to stop, because it's too hard. But thousands of people choose to run the marathon every year, and many people choose to run them over and over again.
Why? Because the marathon isn't just a test of physical ability – it's a test of your mettle. When you cross the finish line, you become special. You become a person who battled adversity and came out on top. Everyone wants to feel special.
So why do so few want a special child?