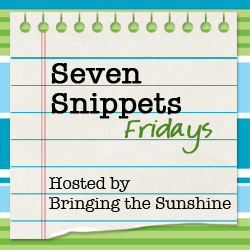 I haven't lost my marbles! I know it's not Friday yet, but I'm posting my snippets a little bit early this week and forgoing my usual Thursday post because of the holiday weekend. I'll also be posting this week's Sun-Beams a little early.
Thank you to everyone who prayed or sent well wishes to the lineman who was injured last week while working on a 12,000 volt line. He is doing amazingly well, considering the circumstances. Although he had some pretty severe burns, they could have been much, much worse, and he hasn't (so far) shown any signs of long-term internal damage. In fact, on Wednesday evening he was talking to Mr. Andi about something he will need to do when he comes back to work.
Linemen are modern day cowboys, I tell ya.
Tomorrow, the 1165th Military Police Company, based here in Mayberry, will be returning home from a one-year deployment to Afghanistan. Mr. Andi and I are planning to take the kids out to see them arriving. Nathan won't remember any of it, but it'll be a good lesson for Sarah Kate in patriotism and supporting the troops.
I've been a FIRM Believer (i.e., a devotee of The FIRM workout series) for years. I love the instructors, I love the workouts, and I love that I can do it all in the comfort of my home. I still leave the house to run (running is about my only alone time and I guard that time with my life). However…I'm struggling to fit in strength (or strength+cardio) workouts these days.
If Nathan takes a two-hour nap and I do a one-hour workout then take a shower, then I have no time to do anything else. I need an "I Have a Toddler" workout series. Suggestions?
Is it an 8-ish year old thing to suddenly show fear? Sarah Kate used to say the Twilight Zone Tower of Terror was her favorite ride at Walt Disney World, but when we went earlier this year we had to take the chicken door at the last minute. Now, it's the horse that Papa bought her eons ago – the one she used to hop up on without any trepidation. Last weekend, the best I could get was a teary-eyed smile for a photo. Riding while it walked around the enclosure, even with Papa walking beside her, was a no-go.
I've added a comment policy. Gobs of posts pertaining to prenatal testing and it's correlation to abortion, yet a post about another blogger (in which I made it clear that I neither liked nor disliked her) prompted me to do it. Go figure. As long as everyone plays nice, it won't be needed, and most everyone does.
And last, but not least….Merry Christmas!
May your holidays be merry and bright.
——
Link up your own Seven Snippets below! Be sure to link to your post, not the main page of your blog.
Looking for a Seven Snippets template or graphic? Go here for some quick tools to create your own Seven Snippets post.