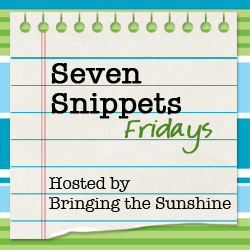 Did you catch the Special Needs toy guide that Ellen posted on Love That Max? If so, you might have recognized the kid on the roller racer. Sarah Kate and I reviewed one of the many toys in her guide. Be sure to check it out!
— 2 —
You may have noticed that I changed the photo in the header bar. The one I was using (see below) was our Christmas card pic last year. I knitted the hats myself and I loved them so much that I decided to use them again for this year's card pic. Plus it made it easy for me to update my header as the kids grew older and changed.
— 3 —
Even though Nathan isn't walking independently yet, we still have to place everything out of his reach. He especially loves to snag one of our cups. A couple of mornings ago, I left my mostly-empty travel coffee press cup sitting on the end table. I don't usually drink the last little bit under the strainer with the grounds. A little while later, I noticed it sitting on the coffee table – bone dry. You know what'll make you question your mothering skills? Smelling coffee breath on your toddler.
At least it was decaf.
— 4 —
Another week, another unnecessary use of the R-word in a movie – this time it's "The Descendants." I'll forego my own commentary and let you read what the Special Olympics blog has to say about it.
— 5 —
Earlier this week, this snippet started out as a listing of gift ideas that also benefit the special needs community in some way. Once I started writing, though, I realized that I had enough for a full post. Be looking for it early next week!
Each month, a local group sponsors a "First Friday Walk" here in Mayberry. Kids and parents park uptown and all walk together to school. Although we don't usually do it, Sarah Kate really wanted to this month, as Santa, a perennial crowd favorite, was going to be leading the way. Mr. Andi was out of town at an ACDD meeting yesterday, so (as I tend to do when he's gone) I went to bed late and didn't much feel like getting up early. Thankfully, Sarah Kate forgot about it and was looking down playing her DS when we drove past the mob of walkers in Santa hats and didn't see them. I gambled and won this time. 🙂
Can anyone tell me what the difference is between the regular Signing Time DVDs and the Baby Signing Time? My mom gave Nathan the full BST set last year for Christmas, and I'd like to suggest some of the others to her this year.
Link up your own Seven Snippets below! Be sure to link to your post, not the main page of your blog.
Looking for a Seven Snippets template or graphic? Go here for some quick tools to create your own Seven Snippets post.