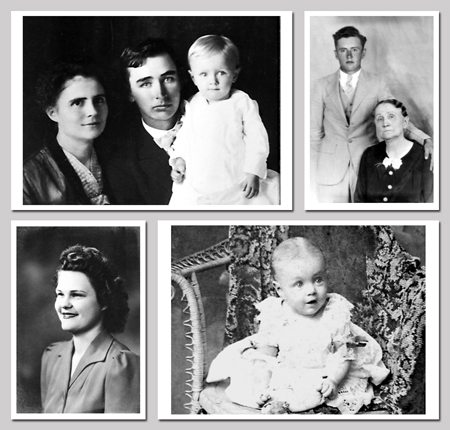 The number question I am asked by readers of this blog is "Have you ever thought about writing a book?" The answer is that yes, I have thought of writing a book – in fact, I AM writing a book. However, I'm not pursuing publication of a book. That may sound odd, but what I mean is that I am writing our stories – stories that I hope my children will cherish. Stories that provide a window into their lives through my eyes.
A few weeks ago, I was approached about reviewing LiveOn.com, a unique new web application for preserving memories. Product reviews aren't a standard feature of this blog, but the idea intrigued me so I decided to do it.
Wow.
LiveOn.com is part digital scrapbook, part social networking, part motivational tool, and part…new and awesome. It allows you to create:
Memories – Video montages with photos, videos, text, recorded audio, and/or music
Milestones – Major life events marked on your timeline. LiveOn keeps track of when certain milestones occurred and makes recommendations in the future to help you document your life (for instance, if you create a milestone of your child's birth, it'll make suggestions when that child starts kindergarten).
Time Capsules – Similar to Memories, but compiled in the present and delivered on a specific future date or milestone in your life or that of a friend or family member, such as an anniversary, graduation, etc.
You can create a Tribe that consists of family, friends, ancestors, or even descendants. When you are part of a Tribe, you can see each other's Timelines, Memories and Life Question responses.
My Life Question what?
LiveOn.com provides prompts to help you share your life and story. The Life Questions ask you the things that you *should* be answering for your family, but don't always take the time to do. A few of the questions that popped up while I was navigating the site were:
What is the most meaningful gift you ever received?
How would you describe your religious or spiritual beliefs?
Describe a time when a good friend came to your rescue.
Pretty great, huh? The questions can be answered individually, or posed to the Tribe, and you can either select questions from specific topic categories or LiveOn.com will suggest some for you. The web application is also integrated with Facebook and Twitter, allowing you to share your creations beyond your LiveOn Tribe.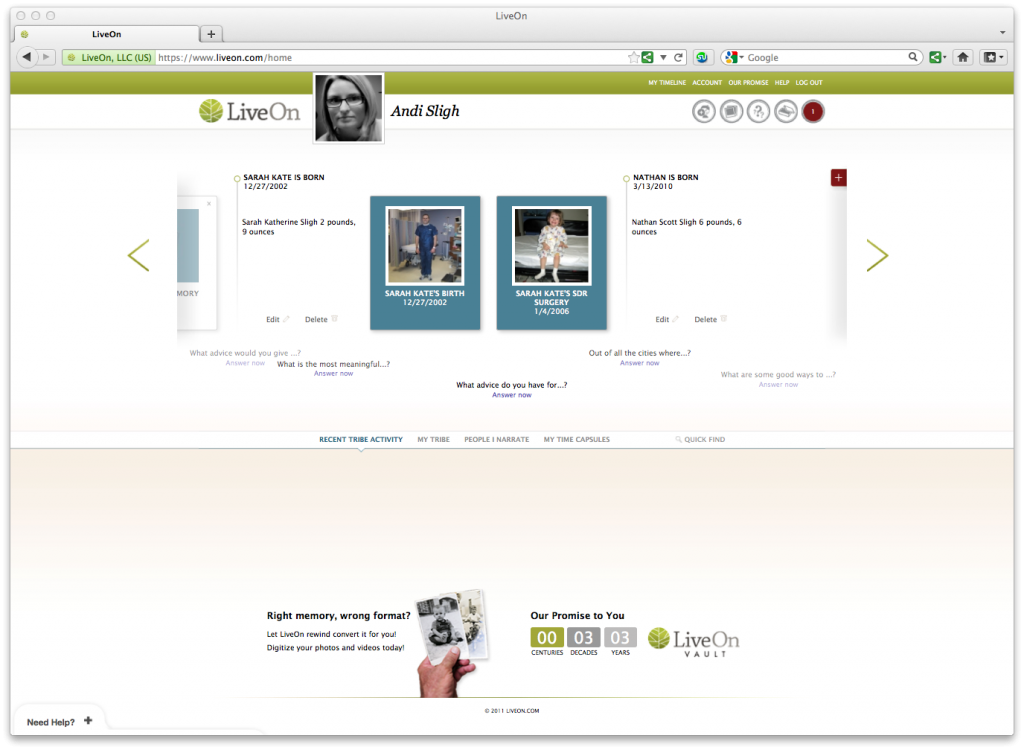 I created a few Memories to test out the application, and what I found was that the details of the events came flooding back – including some things I hadn't thought about in years. As I was typing, it dawned on me – LiveOn.com can not only help me document the most important parts of our life, but it can also help me write that book.
What really grabbed me and held my attention about LiveOn.com is that not only is it beautiful and simple to use (with detailed video tutorials, no less), but that LiveOn is committed to archiving your memories. They even recommend that you designate one of your Tribe members as an Alternate Administrator, whose purpose is to act as caretaker of your account after you are gone.
All of the standard tools on LiveOn are free – creating Memories, adding to your Tribe, and compiling a Time Capsule. Additional bells and whistles come by either paying individual fees to use Premium Tools, or purchasing a monthly subscription. LiveOn Rewind is an additional service for digitizing film images and converting old video tapes to DVD (pssst….use coupon code HOLIDAYREWIND to receive 30% off on LiveOn Rewind!)
It's important to each of us that we record our story – it's a story that will only be written once. LiveOn.com has created an application that makes it easy.
—–
 Thank you to LiveOn for sponsoring this blog post. Please visit LiveOn to learn more about sharing and preserving your most important memories. I was selected for this sponsorship by Clever Girls Collective. Although story ideas were provided, all thoughts and opinions are my own.