On Wednesday afternoon, I was crafting a blog post entitled "Doctor, Heal Thyself". It was a groundbreaking work that would undoubtedly have propelled my little corner of the blogosphere into the national spotlight, leading to fame, fortune, and a modeling contract for Nathan.
Okay, maybe not. But I WAS writing a post. A serious one. Not this one.
Anywho…Sarah Kate was home sick from school and I was actually relieved that her ailment prevented her from going to PT so I could stay in my pajamas all day devote a little extra time to the blog. Nathan was playing quietly in his room with the door OPEN – I know when I hear the click of the latch that I need to get in there – STAT!
Quietly closing door = doing something bad.
Knowing that his door was open, I had no need to worry. The ideas were flowing faster than my fingers could type – I was on a roll! I hesitated for a second when I detected a whiff of ammonia. Why do I smell ammonia?
Oh, no! NOOOOOO!!!
I leapt from my seat and dashed toward the smell emanating from Nathan's end of the house. When I saw it, all I could do was yell.
NOOOOOOO!!!!
I happened to have my phone in hand and snapped off a quick shot – because, of course, everyone wants to see photos of horrors like the one I was witnessing at that moment. Let's break it down.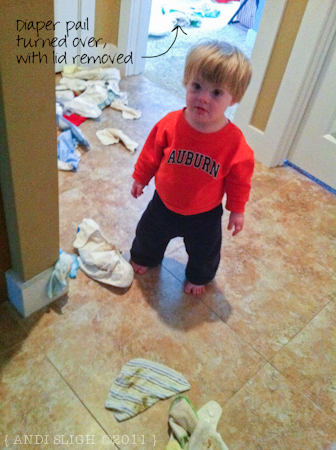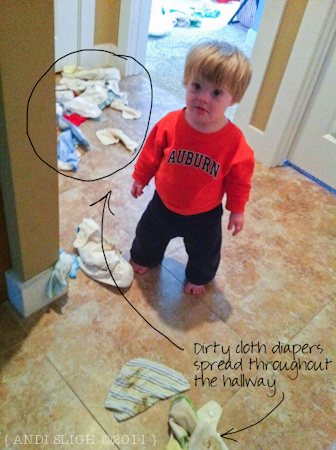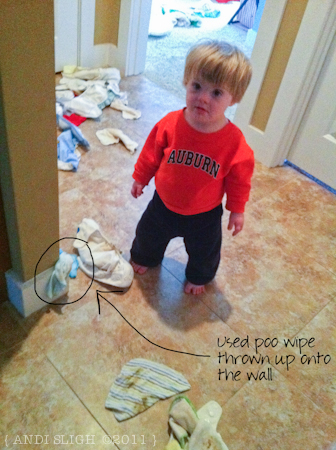 I righted the diaper pail, replaced the liner and lid, and began cleaning up the mess. Nathan cheerfully grabbed a few dirties and handed them to me.
He's nothing if not helpful.
I carted him off to the other room and instructed Sarah Kate to watch him until I could get the mess cleaned up (I elected not to share with her any details of the exact nature of the mess or how it came to be). By now the ammonia smell was unmistakable and had permeated roughly three-quarters of the house.
When I returned to rescue my sick daughter from the stench of her diaper-pail-diving younger sibling, she greeted me with:
"What's that on his face?"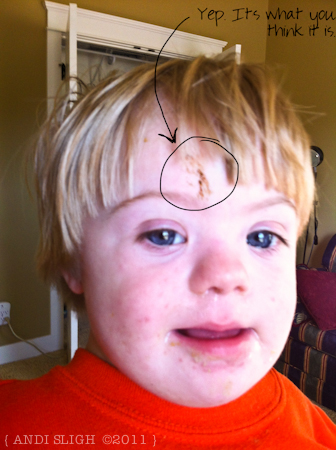 That brilliant, groundbreaking, set-the-world-ablaze post will just have to wait for another day. Poo comes first.