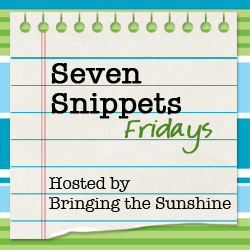 — 1 —
If you're new to Bringing the Sunshine, welcome! Based on my inbox and Google Analytics there seem to be a good many more of you visiting these days. Thank you to those of you who have shared the blog with your friends, and if you're a new reader, feel free to jump in with a comment or email me with questions, comments, or just to say "hello."
— 2 —
Should I be worried that it's Friday the 13th? Is some evil force going to take down my blog today? I don't think so. Mr. Andi was born on Friday the 13th, which was actually good luck for me. 🙂
— 3 —
Speaking of birthdays, mine is coming up on Monday. I'll be 42. Holy cow! How did that happen? Not that I really mind – my 42 is better than my 22!
— 4 —
Sarah Kate wants to play softball this spring. Not adaptive softball – REAL city league softball. Just like when she came home wanting to do swim team two years ago, this momma's heart screams NOOOOO! She's been practicing throwing, catching, and even hitting with "Mr. Bill," her adaptive P.E. teacher, at school, so what am I afraid of? Why, the running, of course!
— 5 —
I gave Mr. Andi a Kindle Fire
for Christmas, and I have to admit…I'm a little envious. I've had an iPad for about a year and a half, and I love it, but it just seems so….heavy compared to his Kindle. Of course, my iPad wouldn't be near as heavy if I didn't have the Otterbox on it to protect it from little hands that like to throw things.
— 6 —
Have you seen this story on the disparity between sizes of models and real women? Apparently, Cindy Crawford, Christie Brinkley, and Paulina Porizkova couldn't make it as models today because they would be too….fat. Really. The comments below the editorial are what really amazed me, however. It's no wonder, with attitudes like some of the commenters have, that we're having a hard time ending the r-word.
— 7 —
And just in case you were wondering, after last week's Snippets, if I did indeed run both the Walt Disney World Half Marathon and the Marathon Relay, the answer is no. I felt terrible on Friday night and decided to skip the half. It hurt my feelings – a LOT – to be without that Donald Duck medal, but I know it was the smart thing to do.
Have a great weekend!
——
Link up your own Seven Snippets below! Be sure to link to your post, not the main page of your blog.
Looking for a Seven Snippets template or graphic? Go here for some quick tools to create your own Seven Snippets post.