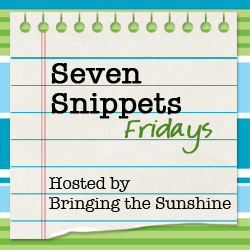 Remember a few weeks back when I was looking for an "I Have a Toddler" workout series? Well, I never did find anything that fit into the "I have no time!!!" criteria so I bit the bullet and ordered TurboFire. Even though I've been a FIRM Believer with the t-shirt to prove it (really – I have two of them), I decided I wanted a change.
Oh. My. Stars. I started with the prep schedule – not even the regular rotation! – and it's still kicking my booty. I always knew I was a lazy marathoner – I didn't realize HOW lazy until this week.
Yesterday's post on poo struck a chord with many of you who've "been there, done that" with your own kids. I hesitated to publish it – partly because poo is just not a pleasant topic, and partly because I wondered how long it will be before some a-hole grabs one of the pics and uses it to mock people with Down syndrome.
Have you ever heard of the concept of genetic inherited memory? Mr. Andi heard a story about it recently – in a nutshell, there's a concept brewing out there that asserts that people can possess the memories of their ancestors through their genetic code (don't worry – that's as far as I'm going with the science – or lack thereof – associated with the concept).
We both thought it was interesting, but left it at that until last night. Mr. Andi turned on the movie "Dances With Wolves," which neither of us have seen since before the kids were born, but which Mr. Andi has always liked due to his keen interest in Native Americans and the Western plains. Nathan was completely mesmerized, and he stayed interested throughout the entire three hours of the film. Inherited memory?
But that's not all! During the part where one of the Sioux men commandeers Lieutenent Dunbar's hat, Nathan started signing "hat." That stinker! He knows words and signs – he just chooses not to use them.

You'll probably be seeing a few changes here on the blog in the coming weeks. Melissa Culbertson of MomComm.com featured Bringing the Sunshine on her weekly blog critique on Wednesday. Her suggestions were fantastic, and I'll be implementing many of them soon.
Last Saturday night, Mr. Andi and I went out to a local sushi place to celebrate my birthday. It was the first date night we'd had in a LONG time, and we've never had a Sushi Date because he just started eating it this year. We ordered two of the chef's special rolls, which we intended to share.
Uh, yeah…about that. I took one bite and decided that roll was one of the best things I'd ever put in my mouth. Wanting to stay true to our original agreement, I offered to let Mr. Andi try it. He barely looked up at me, said "no, thanks" and kept eating.
Me: "Are you sure?" Mr. Andi: "Yep." Me: "Why don't you want to try it?" Mr. Andi: "I just don't. You eat it."
When the truth finally came it out, I learned that Mr. Andi didn't want to try my roll because he had decided that his roll was one of the best things he'd ever eaten, and he didn't want to have to share.
After leaving the sushi place, we dropped into the Irish pub around the corner (I know what you're thinking, and yes, we really do have a for-real sushi place and a for-real Irish pub here in Mayberry). Shortly after arriving, our neighbors sent us a text (their daughter is trying to break into the world of babysitting and Nathan was a "dry run" for her). The text was a photo of Nathan. He wasn't wearing pants.
We spent the next half hour spinning yarns about the story behind the missing pants. Ah, parenthood.
When I went to bed last night, I only had six snippets written, and I wasn't sure what number seven was going to be. When I woke up today, a new person had found my KH post and left six separate comments on it.
What's interesting to me about The Comment Thread That Won't Die is that the people who profess to LOVE her blog because it's so "positive" automatically assume that someone who doesn't love it is a negative person, when what I've seen from many of you is that it's just not your cup of tea because you prefer "real and relatable."
And even more interesting – there've also been a few commenters that, in their zeal to defend the perpetually positive have gone negative themselves. Ironic, no?
Have a wonderful Friday!
——
Link up your own Seven Snippets below! Be sure to link to your post, not the main page of your blog.
Looking for a Seven Snippets template or graphic? Go here for some quick tools to create your own Seven Snippets post.