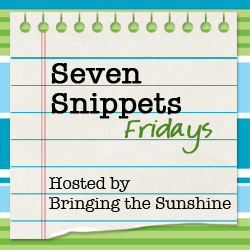 DVR Alert: A Smile as Big as the Moon airs this Sunday, January 29, on ABC (9ET/8CT). The movie is based on a true story about the first students with special needs who attended Space Camp in 1988.
Mike Kersjes, a high school football coach and special education teacher, helped his students achieve their impossible dream of attending Space Camp at a time when the camp accepted mainly gifted students. Kersjes is played by John Corbett (Love him!) who is best known for his roles in Northern Exposure, My Big Fat Greek Wedding, and Sex & the City.
Thank you to everyone who shared their own Toddler Poo stories here on Facebook, or by email (yes, I am being facetious – I could have done without some of those visuals – but I know that I brought it on myself 🙂 ) In particular, I am not looking forward to the inevitable Poop-caso.
In other news, Nathan's figured out how to undo the velcro on his diapers. Thank goodness for cloth diapers with sturdy snaps.
Looks like we're in for softball. My wonderful in-real-life friends – all with typical children, I might add – talked me off the ledge, as did many of you. One reader, k, cinched it with a story that brought tears to my eyes. As Mr. Andi put it, "the tribe has spoken."
Tomorrow is another Super Special Soccer Saturday, and Sarah Kate is Fired. Up. I was super-excited about it last spring, but now that we're looking at non-special softball I'm kind of lukewarm on the concept. I love special opportunities for special kids, but I love regular opportunities for all kids even more.
One of the MomComm suggestions for tweaks to the blog was adding in some yellow in keeping with the whole "sunshine" theme. I love my blog header, so I didn't want to go nuts, so I've switched out the lighter greens with a yellow that I picked up from the background of the photo. Check the before and after below and tell me what you think.
I knew it was coming. The state has issued new guidelines for early intervention. It started with increased reporting (and by "increased reporting" I mean the therapists have to go into exhaustive detail about the visit, recapping everything I did and said, prior to leaving and giving me a copy of all of it) and now they're reducing the amount of visits, citing studies that show parents want less services.
Uh huh. Who, exactly, did they survey? Certainly not me. Probably some parents who were disappointed when they found out EI didn't come with a check attached, or maybe the ones whose children have delays but no diagnosis who are in denial and assume their kid will catch up on his own.
But I'm not bitter.
Speaking of therapy, I'm going to start working on some Picture Exchange Communication (PEC) cards this weekend. Basically, I'll be taking pictures of things that Nathan uses/wants like a sippy cup of milk, grapes, etc. and laminating them to use as a communication tool. His receptive language skills are very strong but his expressive skills are lacking (in layman's terms: he understands a lot of what is said, but can't necessarily say it back). When we do understand what he is saying, he is uber-happy about it, so I'm hoping that these cards can be used to bridge the gap for a little while.
Of course, as soon as I decided to try the PEC thing he started signing "milk" like mad.
Have a wonderful Friday!
——
Link up your own Seven Snippets below! Be sure to link to your post, not the main page of your blog.
Looking for a Seven Snippets template or graphic? Go here for some quick tools to create your own Seven Snippets post.