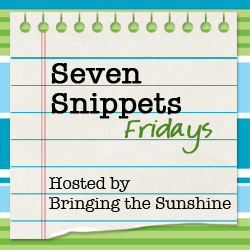 — 1 —
Guess where I am RIGHT NOW? It starts with Dis- and ends with a -ney!
— 2 —
That's right! Walt Disney World! It's marathon weekend and I'm back! I'm not running the full marathon this year, though.
— 3 —
Nathan is "running" again this year. Last year, he did the diaper dash. It was, um…interesting. He (and pretty much all the other babies) just sat there looking confused. He finally got moving when he spotted the "bling" (his finisher medal), which he promptly chewed.
— 4 —

I won't be running the full marathon this year like I did last year. I decided to take it easy and just run the half….
— 5 —

…and then they announced a new (inaugural!) marathon relay. And of course I can't resist inaugural Disney race bling.
— 6 —
So you know how this story ends, right? I'm running both. At least I hope I am. I've had a chest cold all week, so we'll see how it turns out.
— 7 —
Clearly, I had trouble with my snippets this week. 😉 A lot of travel, a heaping spoonful of illness, and a pinch of laziness brought you this week showing.
——
Link up your own Seven Snippets below! Be sure to link to your post, not the main page of your blog.
Looking for a Seven Snippets template or graphic? Go here for some quick tools to create your own Seven Snippets post.