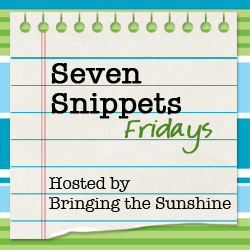 What a week! Mr. Andi had an appendectomy on Tuesday, which was complicated by the fact that it was a school holiday, so Sarah Kate was at home (yes, school gets out for Mardi Gras in Mayberry – are you jealous?) And seriously, what is it with men and hospitals? I TOTALLY understand why women are the ones who give birth. Just sayin'.
I haven't been to Vegas since 1998! And…I'm not going this weekend, either. I was supposed to fly out this afternoon, but appendectomies call. Or more specifically, husbands who are on strict orders not to lift things call. Because boys must be lifted. It's okay, though – I was going to be busy in meetings (most of the time), anyway.
Sorry to repeat myself, but Nathan's sign language skills are exploding. I only thought it was going well last week – this week he's added several new signs and has attempted pretty much all of the signs on the Baby Signing "Here I Go" video (the one that's been in the car DVD player this week). And the really great thing? He's attempting to say most of the things that he's signing.
Yesterday's post, "A Beautiful Tapestry," touched a number of you, it seems. I wasn't sure how a religious-themed post would go over, but several non-churchgoing folks indicated they could relate. My favorite comment was by Sarah: "One of the best places to watch people is at a train station. You see all kinds of stuff, but they have all one short term goal…get on the train."
I honk at Twitter. I try really hard to say things that are witty and share things that are interesting and engage people to make friends, but I think that cocktail party analogy is spot on. Twitter IS like a cocktail party, and I hate cocktail parties. Small groups of intimate friends over dinner is WAY better for an introvert than being thrown into the deep end of socialization. But I'm working on it.
Snippet #6 is a link to article an written in 1996 about eugenics in America. It was reprinted by Slate this week and popped up in my Google search. It's an opinion piece, of course, by a conservative writer, but many of the statements – direct quotes from third parties – contained therein paint a chilling picture. Find it here.
ANOTHER SHAMELESS PLUG: Bringing the Sunshine was nominated for Circle of Moms' Top 25 Moms With Inspiring Families. If you'd like to vote for us, click the lovely pink circle thingamabob you see below. You can vote every day from now until March 7.

Have a great weekend!
UPDATE: If you read this post earlier you saw that snippets 4 and 5 were identical. Whoops. I was moving snippets around last night and apparently didn't recheck my list. Snippet #5, thankfully, was still in existence in my draft over on Evernote.
Link up your own Seven Snippets below! Be sure to link to your post, not the main page of your blog.
Looking for a Seven Snippets template or graphic? Go here for some quick tools to create your own Seven Snippets post.