Some folks are born with a highly evolved fashion sense.
My sister can throw together a fantastic outfit in less than two minutes, complete with accessories, and spend less than $10 on the whole ensemble.
Other people are weak in the fashion department.
I know my sister looks great in her bargain ensemble – I just can't recreate it on my own body. People like me need a little help, which is why I almost never clothes-shop alone.
But there's also a third type – the gal who has no fashion sense whatsoever and is completely unaware of it. My daughter, Sarah Kate, is one of these people.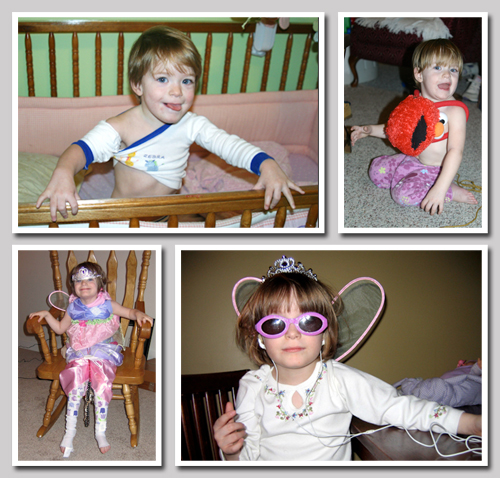 Exhibits A-D, clockwise from the top left:
A. The off-the-shoulder look that appears to be a simple toddler-twisting-in-the-bed incident was actually repeated a number of times. I have several variations of this same basic image in a variety of pajama tops.
B. Neither Mr. Andi nor I are sure why she decided to convert a stuffed Elmo head purse into a top, but convert it she did, and wore it around the house for several days.
C. The headphones, tiara, sunglasses, and fairy wings are an eclectic fashion statement – and one of her better ensembles, I might add.
D. The tiara and fairy wings made a comeback, coupled with, um, pretty much everything she could find in the box of dress-up clothes given to her by Gramma. And some pajama pants.
I know what you were thinking when you saw Exhibits A-D.
"How cute! But, Andi – she was little then. Young ones aren't expected to have fashion sense yet!"
Fair enough.
And so I present to you Exhibit E, taken less than two months ago. Cowboy hat, sports bra, athletic shorts, black socks with a glowing neon design, and brown boots. Mr. Andi and I dubbed it "Urban-Athlo-Cowgirl."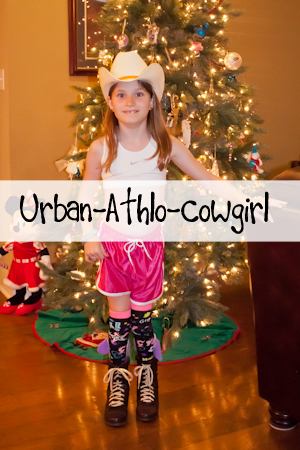 Yes, she will kill me in a few years when she finds this picture on the interwebs.
When I see her put on an outfit like this one, I thank my lucky stars that she attends school in a district that requires uniforms.
The weekend battles that have been waged over the years regarding what, exactly, she is going to wear to church have been…interesting. It's mind-boggling the number of horrid combinations she's been able to create with her limited wardrobe.
But you know what? I love those crazy outfits. When she was younger, I worried almost daily that when she went to school kids would mock her because of her disability. Those crazy outfits – that she thinks are fabulous! – tell me that she doesn't give a rip what anyone else thinks. She believes in herself and exudes a confidence I've never experienced in 42 years.
And I love her for it.
——
Did you like this post? Vote for us for Circle of Moms' Top 25 Moms With Inspiring Families by clicking the pink circle thingamabob below.