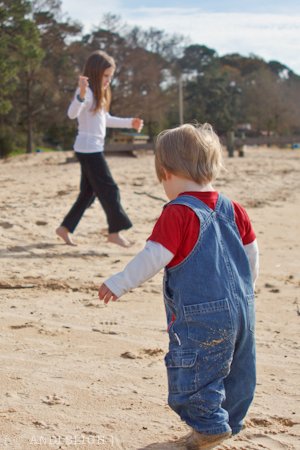 I know that when some people look at my family, they see heartache. They see struggles. They think to themselves, "Thank goodness that's not me." They imagine that my life is difficult, that I am sad most of the time, and that I want to escape from the hell that I'm living in because I have two children with disabilities.
But they're wrong.
It isn't my children that make life difficult, bring sadness, or make me long for an escape – it's the people that believe these things about my family. Our daily life isn't much different from that of other families. We laugh and love; we eat and drink. I do the laundry; Mr. Andi mows the yard. Sarah Kate does homework; Nathan plays with toys. It is a beautiful life.
But there's a cloud that casts a shadow over us.
When I check Twitter for stories about Down syndrome and cerebral palsy and find that my feed is littered with people using the hashtag #downsyndrome as an insult, that hashtag cuts me like a knife.

When I open my Google reader and am greeted with new stories about an individual with Down syndrome who's been abused or a kid with cerebral palsy whose wheelchair has been stolen, my heart is filled with trepidation.

When my reader fills up with financial press releases touting the benefits of a test that will allow pregnant women to avoid invasive and risky amniocentesis, and anticipates its widespread adoption in terms of cold, hard dollars and cents, I die a little inside.

When I hear the r-word used over and over and over again in films and other popular media, I wonder if there's any hope that people with disabilities will one day be accepted as just another variety of people.
It isn't the people inside my house that make life difficult. It's the world outside.
I don't have a problem with prenatal testing in principle. Many children with Down syndrome are born with serious health problems that need to be addressed immediately, and knowing ahead of time can enable the parents and physicians to prepare for the birth. The fact remains, though, that in approximately 90% of cases where an in utero diagnosis of Down syndrome is made, abortion, not preparation, is the outcome.
Fewer people with Down syndrome means fewer dollars for research.
Fewer children with Down syndrome in schools means teachers are less able to gain the experience necessary to teach them effectively.
Fewer individuals with Down syndrome on our streets means fewer people will be exposed to this unique population, making it more likely that those who remain will be regarded as freaks (and we all know what happens to "freaks" – they're mocked, derided, and abused).
Fewer people with Down syndrome also means fewer parents, siblings, and friends who are able and willing to go to bat for the chromosomally-enhanced.
My children are delightfully unique individuals with engaging personalities who have much to contribute to our society.
Why can't everyone see the beauty that I see?
——
Did you like this post? Vote for us for Circle of Moms' Top 25 Moms With Inspiring Families by clicking the pink circle thingamabob below.