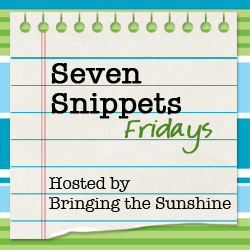 Sarah Kate was presented with the game ball for the first softball game. She was told it was because she fell while running to first base, but got back up and kept going. She was so proud!
Speaking of softball, the Sky Rockets are in first place! There are only four teams in the league, but still…they are undefeated and leading the league right now.
And one more thing….Sarah Kate scored her first run on Tuesday night. I couldn't believe it! Of course, like always, she took it in stride.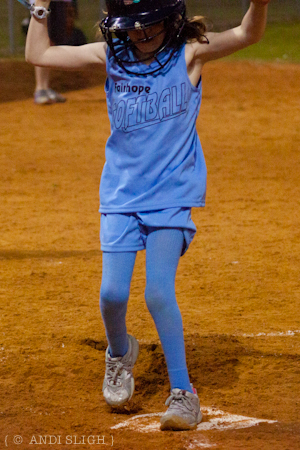 Did you catch my Why I Run guest post on Jennifer Luitweiler's blog? If you've been reading here for awhile, most of what I wrote may be somewhat familiar to you, but if not, you can read about why a couch potato like me became a marathoner.
Today is the Special Olympics for our county and Mr. Andi is doing the Torch Run with Nathan again. In fact, one of our friends who did it with him last year moved 350 miles away and drove back last night to run with him again. I'll be standing along the roadside with cowbell cheering them on, and hope to snap a few photos at the stadium.
Nathan has learned how to open doors. Life as I know it is now over. He has also figured out how to climb on our (very tall) couch by himself. I envision many bumped noggins in our future. Thank goodness for deadbolts.
I've been mulling over the "wrongful birth" case for several days, trying to decide if I want to write about it here. I will be, next week. I don't plan for it to be a rant, but there are a few things I'd like to say about it – I hope you'll come back and check it out.
Have a great weekend!
Link up your own Seven Snippets below! Be sure to link to your post, not the main page of your blog.
Looking for a Seven Snippets template or graphic? Go here for some quick tools to create your own Seven Snippets post.