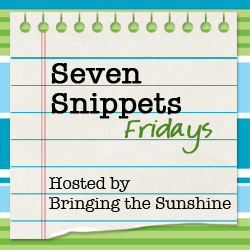 Sarah Kate decided to give up all electronics for Lent. She lasted a week before she capitulated and watched Looney Tunes on the DVR. Oh, well – she did better than me, as I have yet to commit to a Lenten discipline for 2012.
Yep, I am a slacker.
Softball Opening Day is tomorrow. I'll have my camera, of course, and plan to share pics later. Assuming I survive it. And it doesn't get rained out, which is how it's looking right now.
Did you read where two medical ethicists have argued in favor of "after-birth abortions"? I'd call it baby-killing, but whatever (they reject the term "infanticide" – of course). They provide a specific example of when such an action would be justified, and (SHOCKER!) it's Down syndrome.
What might shock you is that I actually believe their arguments are valid, IF you accept their basic premise that individuals with Down syndrome are an "unbearable burden on the family and on society as a whole." Which, of course, I don't.
More on that in a later blog post. Maybe.
A friend of mine's daughter got engaged this week and she wants me to photograph the wedding. EEK! On the one hand, I'd love to do it for her (I've shot a few weddings, but generally only as a favor and none since I got more proficient at digital), but on the other hand, I'm afraid I'll screw it up. What to do, what to do…
I think I might be raising Cookie Monster. Whenever Nathan is enjoying a particular food, he makes "nom nom" noises repeatedly. Flashback to crawfish:
Good news: Mr. Andi is back to 100% and will be running in the Special Olympics Torch Run again this year (March 16 for our area). Stay tuned!
My sister, a comm professor at Georgia Highlands College, encouraged her students to get involved with the End the Word campaign this week. The campus had not participated previously and just became aware of it following the Courageous Conversations session that I facilitated back in the fall. They collected approximately 250 signatures!
Although the campaign is ongoing, the big PUSH date for 2012 is this Wednesday, March 7. Which, coincidentally, is also the last date to vote for this blog for the Circle of Moms Top 25 Moms With Inspiring Families (smooth, right?)
If you'd like to vote for us, click the lovely pink circle thingamabob you see below. You can vote daily.
Have a great weekend!
Link up your own Seven Snippets below! Be sure to link to your post, not the main page of your blog.
Looking for a Seven Snippets template or graphic? Go here for some quick tools to create your own Seven Snippets post.