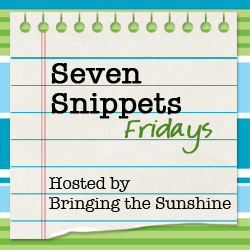 Unless you're viewing posts exclusively via email or reader, you've probably noticed the new blog design this week. Is it working for you? Anything wonky? I'm not a web designer by any stretch of the imagination, so let me know if anything seems "off" or broken.
The Sky Rockets won a close one. Who knew that 8U girls softball could be so exciting? As for Sarah Kate, she was thrown out once and struck out once. Maybe that'll bring her back down to earth. 🙂
My sister and her kids are visiting for the weekend for their spring break and weather is supposed to be beautiful. Beach Day Redux!
Nathan's birthday is Tuesday, and I had absolutely nothing planned until, um, yesterday. When Sarah Kate turned two we had a "grandparent" party but back then it was a day trip for everyone. We weren't going to do anything until my sister decided to stay an extra day. So…I ordered a Publix cake and I'll pick up some Elmo plates and such. Voilá! Instant party.
Sarah Kate has been getting up at 5:30 every morning for the past week or so, and I have no idea why. She is up, dressed, and fed before I get up. If I didn't have a pretty vivid recollection of giving birth to her, I'd wonder if she was really my child.
My faux niece is now my sister. 🙂 My friend AnnMarie's daughter came south to attend college at my alma mater. Since it's a long way from Alabama to Massachusetts, she sometimes visits us on weekends when her friends are going home. We call her our faux niece. Well…Hannah was initiated into my sorority this week, so now she's my sister, too!
Are you a blogger interested in being "tagged" for the 11 Things meme? My friend Donna of Beating Limitations tagged me (like 2+ weeks ago – I'm a total slacker); I'll be publishing my 11 Things post next week, and I'd love to tag you if you're interested! Leave a comment or email me.
Have a great weekend!
Link up your own Seven Snippets below! Be sure to link to your post, not the main page of your blog.
Looking for a Seven Snippets template or graphic? Go here for some quick tools to create your own Seven Snippets post.