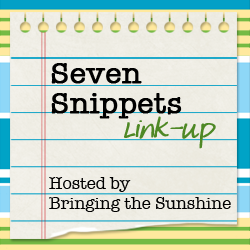 First things first: thank you to everyone who told me a little about yourself following last week's post. I have truly, truly, truly enjoyed reading every word of what you had to say. Some of you I've known for awhile (even if only through your comments here), but I still learned so much about you that I didn't know before. I love it! I'm trying to decide what, if anything, to do with that post – I'd like to write about each of you in a future post but not sure you all would want that. I may put a link to it up in my sidebar to encourage new visitors to add their information, as well.
And, of course, if you haven't commented yet…do it right now!
Did you see the story this week about the girl with cerebral palsy who was denied the use of her walker at school? Yes, that's right. Parents were told she'd have to use a wheelchair because they didn't think the walker was safe for use in the school. I've been trying to figure out if there's more to this story that I'm missing, but I can't think of anything. The concern they gave was of her falling.
Um, really? Sarah Kate falls almost daily and has been as long as she's been vertical.
Do you ever wonder if your pets have a secret life of which you aren't aware? We did – until last night, when Mr. Andi confirmed it. He had to go in to work around 11pm and when he rounded the corner to leave, he saw two people sitting on the sidewalk next to our fence. He first thought they were ne'er-do-wells and pulled over to encourage them to move along. He realized when he got closer that it was a couple he knows who live nearby, but not in our neighborhood. They were sitting cross-legged with a small dog and were petting our cat, Doc. They went on to tell him that they stop by and visit with him quite a bit late at night and that they call him "Homeward" because he reminds them of a dog they had with that name.
I really want to get one of these
for our cat. It'd be a hoot.
Looks like I'm going to be published! Dandelion magazine, a a free quarterly magazine for Bay Area and Sacramento families of children with special needs, is planning to include a piece I've written based on one of my prior posts in their summer issue. Does that make me a professional writer? 😉
Actually, I've been published before, but I don't think it counts because it was for my sorority's magazine (of which I over see editing by virtue of my volunteer position).

We've had two more Buddy Sightings (also known as Stalkings) this week. My friend Dawn called me on Thursday while we were eating lunch at Chick-fil-A to tell me she was at the beach and a young boy with Down syndrome was building a sand castle nearby. As we were leaving the restaurant, we spotted a young girl with Down syndrome getting into the car next to ours.
I get so excited when I see someone with Down syndrome in public. It's like I've just spotted a movie star or something.

Sarah Kate got fitted for new AFOs this afternoon and she made an interesting design choice this time. She's never had a transfer design on the plastic before, but for the next year-ish she'll be sporting Tweety Birds. I wanted to convince her to go with something more…sensible, but I let it go. I'm not the one that has to wear them, or do physical therapy, or have spinal cord surgery, so if she wants Tweety Birds I'll live with it.
Speaking of AFOs, Sarah Kate may appear in a Cascade DAFO ad! She's been wearing Cascade AFOs and/or SMOs since she was younger than Nathan is now. I was contacted by their marketing department recently about including one of her "active" photos in one of their new print ads. I'll keep you posted…..
Have a great weekend!
Link up your own Seven Snippets below! Be sure to link to your post, not the main page of your blog.
Looking for a Seven Snippets template or graphic? Go here for some quick tools to create your own Seven Snippets post.