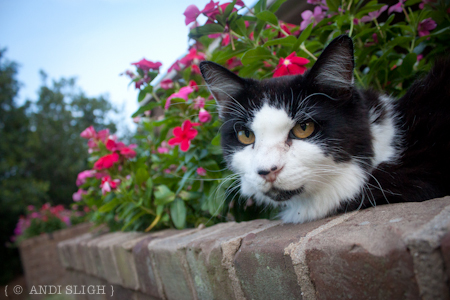 Several years ago, my grandmother fell and broke her hip.
Up until that time, Mimi, as she was called, was active and lively – the last Christmas before the injury she made snow angels in confetti on her living room floor at Christmas. My grandfather ("Pops"), by contrast, was a quiet man. If he'd been born later, he may have been diagnosed with social anxiety or some other disorder, as he tended to be nervous in social settings. Mimi was the perfect compliment to him, because she was a spirited conversationalist who could easily carry the social load.
When Mimi was released to rehab, I loaded Sarah Kate into my Toyota and made the three-hour drive to visit her. We stopped first at the house to see Pops, and I worried that after being cooped up in the car for so long, Sarah Kate – who was two at the time – would be too much for his fragile nerves. To my surprise, she climbed up into his lap, laid her head on his shoulder, and gently stroked his hand.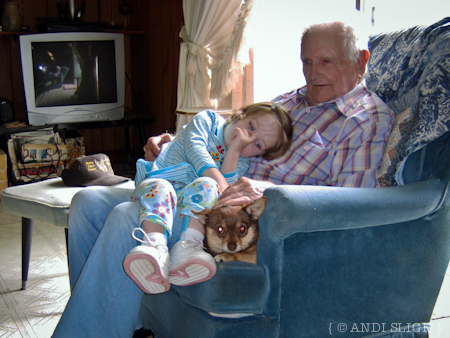 That was when I first became aware of Sarah Kate's capacity for empathy and compassion.
We left Pops behind and drove next to the rehab facility. Immediately upon arriving, Sarah Kate's demeanor changed. She pushed Mimi's wheelchair up and down the halls, bringing sunshine to the sterile spaces. Both she and Mimi laughed and squealed with delight, creating a joyful ruckus where ruckuses were likely few and far between.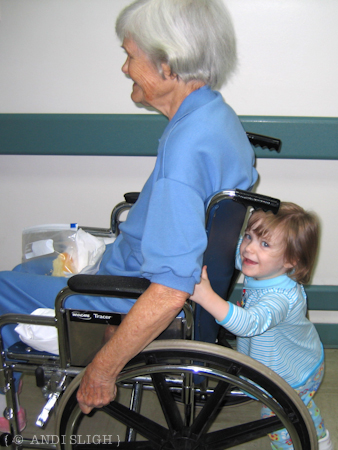 Sarah Kate knew, instinctively, at two years of age, that Mimi and Pops needed different things, and that's what she gave them.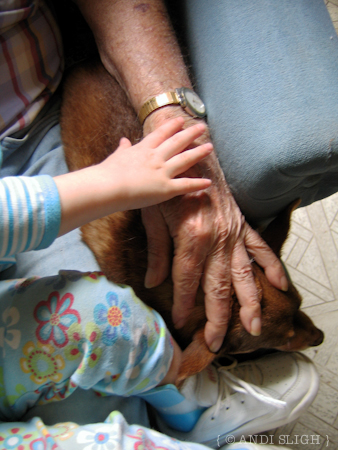 I've been amazed over the years at how compassionate Sarah Kate can be.
She isn't overly sentimental, and unlike many girls, doesn't have a flair for the dramatic. She was never a clingy child, and she isn't upset easily. But she cares when it counts.
Although she has expressed a desire to be many different things "when she grows up," the one thing that she's said off and on for several years is that she wants to be a veterinarian. When she was not quite three years old, a vet friend of mine told me that Sarah Kate was just like her as a child. Not long ago, another vet friend of mine took Sarah Kate to work with her for a day to see what it was like. She loved it.
Last week, Sarah Kate's cat, Doc, was injured.
I won't go into specifics – it's rather gruesome – but will say that we knew it was bad, and it was worse than we thought. Initially, I felt that he would be okay, so we had only told Sarah Kate that he was hurt and at the vet.
After learning on Monday that his injuries were life-threatening and that he was getting worse, not improving, I decided to talk to Sarah Kate about the situation in the car on the way home from school. I wanted her to know that he was seriously ill so that she would be prepared if The Worst happens. With watery eyes, she asked me if I thought Doc might die, and I told her that, yes, he might. She still remembers our lab, Tess, who died shortly after Nathan was born, so she's been through the death of a pet before.
She immediately asked if she could go and see him.
At first, I was hesitant and gently tried to dissuade her (he's very ill…he won't look good because he's been shaved and his wound is open…he's lethargic…he's in pain and may cry if you touch him…). But knowing that her only other chance to see him may be when it's too late, I drove to the vet's office and went inside by myself to ask them if we could see him. I was warned about the potential impact of the image of our sick kitty, and rightly so, but they agreed and I went back to the car to get Nathan and tell Sarah Kate that we could go in.
The scene when we walked in was both better and worse than I had envisioned. I expected his wound to be gruesome enough to make me squirm, and for him to be lethargic but aware. Instead, the wound was forgotten when I saw him slumped pitifully on the table, his breathing labored. I immediately knew what the vet had been hesistant to say: Doc is dying. Sarah Kate reached out her hand, barely touching him, in an effort to be certain not to cause him any pain. He didn't react.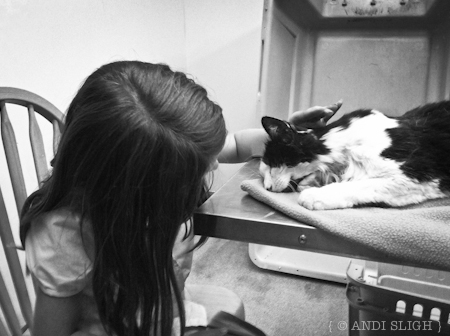 She continued to stroke him, increasing pressure but still with a light touch. She leaned close and looked into his heavy, vacant eyes. I switched my phone to mute and discreetly snapped a few photos, knowing that this moment might end up being significant. I fought back tears as I watched them, then slipped out quietly so as not to let her see me cry.
The rest of our visit, I walked in and out of the room – grateful for the excuse of a rambunctious toddler – to avoid crying. Through it all, though, Sarah Kate was caring yet stoic. Her tears in the car told me that she was fully aware of the situation – she knew and understood that Doc might die – but she held it together like a pro. She continued to stroke Doc's head until he, at long last, moved his head into what appeared to be a more comfortable position and fell asleep; she then walked out to the waiting area, where I had retreated once again, ready to go.
I'm convinced that Sarah Kate has a future caring for others.
Perhaps she'll be a vet, as she's stated many times, or a hospice nurse, or perhaps even a physical, occupational, or speech therapist. She's not squeamish, she's calm and matter-of-fact, but above all else she is instinctively compassionate to people and animals. It is her gift.
I believe God knew what he was doing when he made her Nathan's older sister.