Five years ago this week, a West Highland White Terrier puppy was born. Her pedigree was impeccable! She wasn't a mutt or a product of a puppy mill. She was loved and socialized from birth, and several weeks later found a new home with our family in north Alabama.
We named her Daisy.
As Daisy grew, we began to notice that she fell short of the breed standard in a few areas. Her tail was erect, but curled. Her coat was pure white, but thin, with one stray black hair perpetually sticking up. She had crooked teeth. Finally, when rough housing with her one day, Mr. Andi discovered that her teats were misaligned – and one was missing.
A show dog she wasn't.
But we didn't care, because we loved her. Showmanship wasn't important to us. We brought home our pedigreed pup, not to attain status in the community nor to breed others like her, but to be a part of our family. We brought her home to love her.
Five years later, Daisy has become exactly what we wanted: a valued member of our family.
She's a companion, a playmate, and occasionally a court jester. I'm more inclined to take Nathan down to the beach for a walk in the mornings because Daisy needs to get out, as well. She doesn't have expensive doggy clothes or a fancy bed to sleep on – ours is just fine – but she is loved and cared for and happy.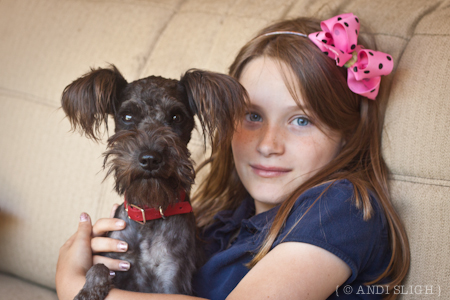 On Tuesday, we added another member to our family. Her pedigree is unknown, but she looks schnauzer-ish, or maybe schnoodle (schnauzer bred with poodle). Her history prior to the past eleven days is unknown and (almost certainly) unpleasant. Her age is a vet's guesstimate, placing her around Nathan's age. We don't know what her permanent coat will look like, because most of it had to be shaved when she was dumped unceremoniously (and illegally) at the local shelter after hours.
We call her Stella.
And henceforth, she will be loved. Though she doesn't have a disability like Sarah Kate or Nathan, she does have special needs. She will require extra patience and an abundance of nurturing. She came to us, not as an adorable newborn puppy, full of energy and optimism, but wounded by mistreatment. She came to us hungry for food, but starved for love.
Not everyone would accept an imperfect pedigreed dog, and some others wouldn't be willing to take in one with special needs. But Sarah Kate, with her heart of compassion, fell in love with Stella, so we brought her home.
I'll keep you posted on her progress.