Holy Week for the rest of the Christian world was more like Hell Week for us.
Nothing tragic, but it was a week long test of my ability to remain "sunny." As I was writing on Wednesday morning about what a rough day Tuesday had been, I had no idea that Wednesday wasn't going to be the Hump Day I hoped it would be.
Nathan looked worse, but at first I attributed it to the virus running its course. He was on two medications and we were supposed to follow up with our pediatrician on Thursday, so I wasn't worried.
Then 2pm came and I woke him up from his nap to go get Sarah Kate at school. Did he look worse AGAIN? I thought maybe he did. I put him in the car and drove to the school. Once we were out of the house and I could see his sores in better light, I decided he was worse. A lot worse. On the way home, I stopped at the pediatrician's office to see if they could see us. They did, immediately, taking us to the back – and by "back" I mean WAY back – bypassing many parents and children in the waiting room.
When the doctor came in, she took photos of Nathan's sores and informed me to go home, pack for a few days, and go to the University of South Alabama Children's & Women's Hospital, even though there is a good smaller hospital right across the street from her office.
Now I was worried.
Nathan was placed in another Way Back Room at the hospital, far at the end, with double doors that would alarm at the nurses' station if opened. A washroom with boxes of gloves, duck bill masks, and disposable gowns filling the shelves separated the outer door and the inner door. We sat alone in the room for awhile until a six-person cadre of medical professionals – nurses, residents, and an attending physician – entered at once. Just before they entered, a friend texted me:
Except that they kinda were. Each of the six people crowding into our tiny room was nearly indistinguishable from the other because of the garb they all wore. Crap. We were one step above quarantine, I thought (…Do they still quarantine people?…Maybe this is actually the New Quarantine…My goodness this room is tiny…)
The rest of the evening was filled with blood sticks, nose, mouth, and lesion swabs, and starting an IV on a resistant toddler who couldn't understand what was happening. Following the IV, around 10pm, the IV medications began – three of them, each taking 45 minutes to an hour to administer, on a six-hour rotation. I didn't sleep at all, and just the attempt to do so on the wretched hospital furniture caused every muscle in my body to ache the next morning. This stuff wasn't comfortable to sit on, yet I was supposed to SLEEP on it?
Through it all, I did what moms do. I comforted. I calmed. I snuggled. And I worried.
I worried that they were wrong about it being viral. I worried that it was viral, but he could have complications. I worried that the secondary bacterial infection could get worse. I worried that he'd rip the IV out of his arm, despite the precautions taken to prevent it. But mostly, I worried about how Nathan will look after his sores heal.
What?
Yes, that's right. I had little fear that he would get better; call it instinct or optimism or faith or what-have-you, but I never truly doubted he'd get better, in spite of all of the medical horror stories about Down syndrome I've read (none of which have thus far come true). No, I choked back tears while on the phone with my mom, saying,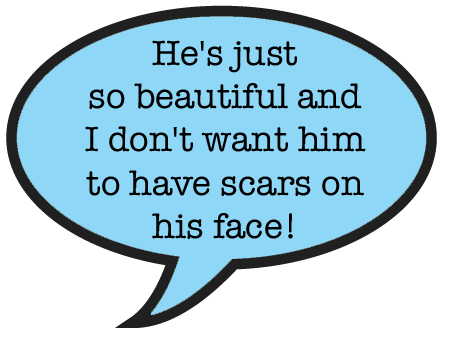 And as I heard myself saying it out loud, it sounded as crazy to me as it probably seems to you.
I've never been a vain person (I don't think…) I don't care much about fashion, makeup, and accessories. I decided at the age of 38 that I didn't want to color my hair for the rest of my life, despite the fact that I went gray prematurely, so I stopped. Most of the new clothes I've acquired in the past five years have been running clothes. I do wear makeup – sometimes 🙂 – and I haven't "let myself go" because I've been this way for twenty years. Not that I take a lot of pride in my lack of vanity – I have plenty of other faults to make up for it.
But suddenly I discovered vanity within myself about my two-year-old son.
I wondered if I might be insane, or at least temporarily unable to think clearly from exhaustion. Why did it matter so much to me that Nathan might have chickenpox scars on his face? He's a boy! He's not going to care! Lots of people have chickenpox scars!
And then it hit me.
It has everything and nothing to do with Down syndrome. Since Nathan was born, I've fallen in love with the almond-shaped eyes, round faces, and flatter profiles. I especially adore the young kids who wear glasses – a weakness of mine that predates my induction into the T21 community – although I hope we dodge that obstacle, for practical reasons. But like most mothers, I look at Nathan and see the Most Exquisite of the Beautiful.
I know I'm not the first to believe that my child is more beautiful than his or her peers. Five minutes of watching "Toddlers and Tiaras" tells me that other mothers feel the same way I do (hopefully it's not just the pageant moms and me…) I also know that lots of people will never see my son as beautiful, if they even see him at all.
But I will see him, and others in The Secret Society of T21 will see him, and I want the view to be of perfection. Because he is perfect, in every way.
And the fact that I just said he's perfect proves that I may be insane, or at least exhausted. When I can say that about a kid who does things like this, you know it's bad.
Yes, it's time to plan my Great Escape.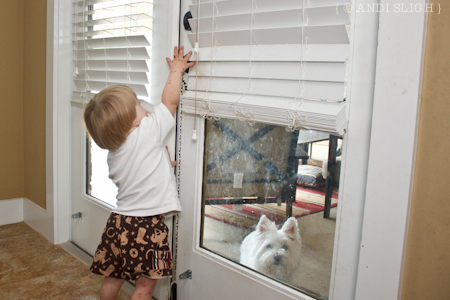 SIDEBAR: Did you know that vaccines sometimes aren't as effective on kids with T21? Me, neither. Nathan had the chickenpox vaccine but still got a severe case of chickenpox, and they tell me that's why.