Today I'm welcoming Matt Willingham, press secretary for the Preemptive Love Coalition, to share with you the story of a young boy in need. The Preemptive Love Coalition team lives and works in Iraq, training local heart surgeons and nurses with the aim of eliminating the 30,000+ backlog of children waiting for lifesaving surgery.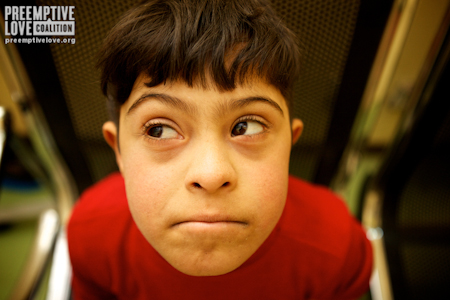 This is 7 year-old Hussain.
He likes riding his bicycle, playing soccer with the neighbor kids, and laughing hysterically at Tom & Jerry reruns. But, unfortunately, I didn't meet Hussain while he was doing any of those things. I met him in a hospital.
Hussain was born with a heart defect, and Hussain was born in Iraq. That combination means he has waited years to receive the lifesaving heart surgery he needs—and he's still waiting.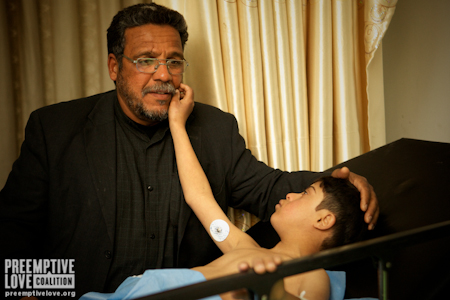 The last few decades of war, sanctions, and internal conflict left Iraq with an extremely high incidence of birth defects. Add in a complete lack of child heart surgeons and you get the perfect storm: a ballooning backlog of 30,000+ Iraqi children waiting in line for a lifesaving heart surgery and no one capable of helping them.
As if that weren't enough, Iraqi doctors have told us that it was illegal to help children with Down Syndrome under Saddam Hussein's regime—a "waste of resources," they were called. Thus, many of the children in need of heart surgery have Down Syndrome and have been repeatedly bumped to the bottom of the list. This is also Hussain's story.
But his wait is about to end.
Soon, the Preemptive Love Coalition will host a highly-skilled international heart surgery team in Hussain's own backyard (err, a hospital near his backyard) to train local doctors and save little lives, and we are doing everything we can to get Hussain the lifesaving surgery he needs!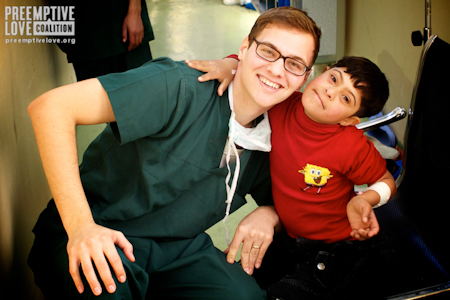 Would you join me in cheering him on? We are hosting an online surgery party for Hussain, and we would love for you to come! Join us by clicking here, and feel free to leave your own "get well" note. You can also come back to see photo and video updates of Hussain's progress once he's in surgery.
Much sunshine to you from Iraq (we have lots!),
Matt Willingham Preemptive Love Coalition
www.PreemptiveLove.org