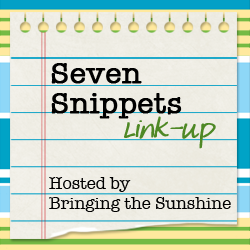 I'm not sure how it happened but we are now ALL IN for girls softball. After a strong start, Sarah Kate has struggled – not because she's any worse, but because the other girls have gotten better at fielding, so it's tougher for her to get on base. But she's still having fun, and she's even elected to play in a tournament this weekend.
Last week, my friend Megan secretly had a "box of cheer" sent to me via UPS. When I didn't mention it, she asked me about it and it turned out that she sent it to our old address. It's only a mile from here, so Mr. Andi dropped by to inquire about it. The couple living there now denied any knowledge of the box, even though the UPS description of where they left it was pretty clear that it was that house. THEY ATE MY BOX OF CHEER!
Seriously, who does that? At least hold it for a few days in case the real owner shows up…
Nathan's face is almost back to normal. And you folks were worried!
Kidding, obviously. But I am relieved.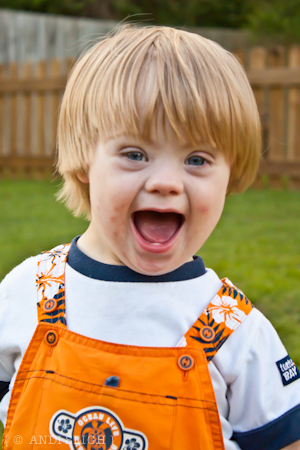 Last week honked, to be sure. Dead cat, sick kid, hospital trip, watching Easter Mass on TV so we wouldn't infect anyone else – it was no fun. But it all faded to the background when I learned that a childhood friend of mine's husband died on Easter, leaving behind my friend and their young son.
Rest in peace, Johnny.
Sarah Kate can tall kneel! If you don't tour the PT circuit like I do, think "man getting down on one knee to propose" position. She's been working on it for YEARS and can finally do it. I wonder if balancing and swinging the softball bat has anything to do with it…
I'm free!!! Even though Nathan's chickenpox haven't been contagious for a few days, the pediatrician told us to keep him home until the weekend because he was still at risk for picking up something else. She also said to keep him out of the sun until his 'pox have healed.
Let's just say that It. Is. TIME.
Remember the post about Deacon Hank?
I wasn't acquainted with his family, but I found out last Saturday that they have seen it. His daughter, Kerin, was given a printed copy on Good Friday. Since then, we've corresponded and she shared with me a photo slideshow of her father's life. And guess what? She's being working for a nonprofit serving individuals with disabilities since 1998…something Deacon Hank never mentioned, but most certainly knew.
Have a great weekend!
Link up your own Seven Snippets below! Be sure to link to your post, not the main page of your blog.
Looking for a Seven Snippets template or graphic? Go here for some quick tools to create your own Seven Snippets post.