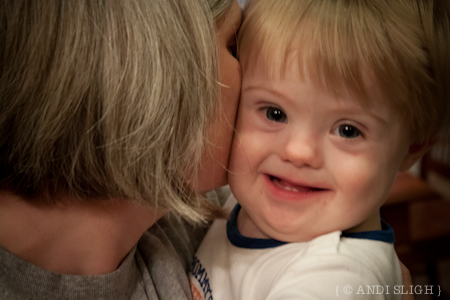 A lot of the recent discussion about stay at home moms has centered around wealth (or lack thereof).
In the wake of the Rosen/Romney controversy, some commentators described not working as a luxury afforded only to wealthier moms. Other news outlets refuted that assertion by using data to characterize stay at home moms as poorer and less educated than their working peers.
Yes, some women do get to make an easy choice to stay at home, because they have a husband whose income provides much more than they need. Others have the choice made for them, because the childcare costs would exceed the amount of money they could make.
But some of us don't neatly fall into either of those categories.
Mr. Andi is an engineer working as a white collar middle manager. We have a nice home, one new car, and a twelve-year old truck. We don't go out to eat very much (and when we do, it's always someplace inexpensive), though we do enjoy Chick-fil-A breakfast most Saturday mornings. We rarely go out as a couple, because babysitters are expensive, and I shop Target and consignment stores for my clothes. I plan our meals around what's on sale at Publix that week, and I don't have a nanny or a cleaning lady.
We are comfortable, but we are far from wealthy.
I have a bachelor's degree in electrical engineering and an MBA. When I was pregnant with Sarah Kate in 2002, I selected a daycare for her, and while the cost was significant, it would have easily been covered by my salary. There was no question that I could afford to continue working, and I wanted to work. A goal-oriented career woman, I never planned to stay at home with my daughter.
Yet here I am, three weeks shy of nine years of joblessness, with no plan to return.
Many days I miss working. My diplomas hang on the wall near my desk where I sit typing this post. Time and time again I find myself wanting to remove them, because they scream at me that I wasted time, money, and part of my youth obtaining degrees that I don't now use (and may never again). I'm particularly bothered by the MBA that I spent two years in night school working on, when I could have been at home with Mr. Andi, enjoying our years together before we had children.
I also sometimes wonder if Sarah Kate won't be properly motivated to achieve because her mother doesn't work. I want her to be independent, able to support herself. What is she learning from me about the need for independence and the possibility of a rewarding career?
But I don't work, and there are two reasons why: Sarah Kate and Nathan.
Therapy and doctors appointments are time consuming, and they aren't temporary anomalies – they are long term commitments. But therapy time is actually fairly limited – the truth is that much of my children's "therapy" over the years has consisted of doing things in specific ways as part of our daily routine. Some of it is natural and easy to incorporate, but much of it requires significant adjustments on the part of the caregiver (i.e., me).
With quality childcare in such high demand (I heard a statistic earlier this week that some places have a two year waiting list – do you sign up as soon as you start dating someone?), I imagine I'd have been hard pressed to find a quality caregiver who was willing to go the extra mile for my child. One mother of a girl with Down syndrome shared with me recently that when her daughter was an infant, she had to depend on a 75-year old family friend to care for her daughter until she could find a daycare who would accept her. That family friend cared for her until she started school, and still does in the afternoons.
And then there are the health concerns.
Sarah Kate was a preemie and at risk for serious complications from typically mild childhood viruses. We weren't able to take her out in public, and had to limit visitors to our home (all of whom were put through the sterilization ringer immediately upon entering) for three months after she was released from the NICU. She has proven over the years to have a healthy immune system, but many preemies do not, and we couldn't take the risk.
Children with Down syndrome are more susceptible to illness, so it's likely that Nathan would have gotten sick a lot more often over the past two years if he'd been in daycare. Look at what happened with the chickenpox, and that was after having had the vaccine.
The year that Sarah Kate had her rhizotomy, she spent six weeks doing intensive physical therapy for four hours every day, and had one to one-and-a-half hours of therapy every day for an entire year. How would we have done that if I had been working full time? Perhaps we could have depended on a friend or family member to help shuttle her back and forth, but we didn't live near any of our family, and still don't. At any rate, even if we had that option, the person we depended on would have had to be someone who stayed at home – either another parent or a retiree.
On paper, someone like me has a choice of whether or not to work.
But the most critical issues for someone like me aren't related to education or money. Moms like me are, in a way, forced to stay home, because we either don't have anyone willing to care for our children, because we fear that we will endanger our children's health by sending them to daycare, or because we won't be able to provide them with the interventions they need to maximize their potential. But I wouldn't change it if I could, because as tough as it sometimes, it's vitally important to me to be there all the time for my children.
I'm not a religious zealot, a prisoner of patriarchy, uneducated, or old fashioned.
I'm just a mom doing the best I can.