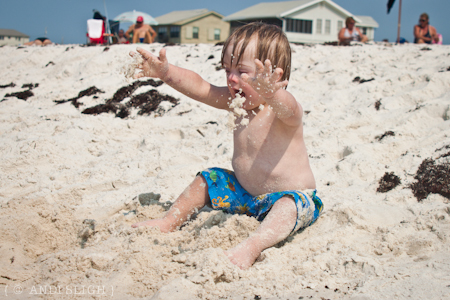 One of the best things about living near the coast is that we can head to the beach for the day without the need for reservations.
We did just that on Saturday and again on Monday, loading down the family wagon with towels, sunscreen, and various other beach accoutrements. We parked at a semi-secluded public beach away from the high-rise condos and souvenir shops and enjoyed the day. Because of its location, most of the people at this particular beach are either locals or at least regulars. There are no chair rentals, no beach bars, and no swimming pools.
It's our kind of place.
Upon arriving, I spotted a family just a little ways down from us. One young woman in the group stood out right away. Though I couldn't see her face, I was fairly certain from her body shape and the body language of the people standing with her at the water's edge that she had Down syndrome. I scooped up Nathan – the equivalent of a Golden Ticket into this exclusive club – and headed over to introduce myself. She and her family were warm and friendly, and we chatted for several minutes.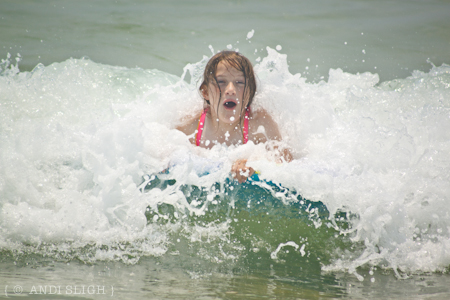 We stayed for several hours and the kids played – Sarah Kate alternating between sand creations and marine life imitations, while Nathan squealed at the waves and threw sand by the handfuls into the air. On a busier beach, it's unlikely that many people would have noticed anything different about him at all, and though walking in the deep sand is a struggle for Sarah Kate, she is like a fish in the water.
It was easy to forget that we are "different."
Later in the afternoon, as we were gathering our things to go, a lady who'd been sitting near us all day spoke to me. The only pleasantries we'd exchanged in the previous six hours were a passing comment on the book she was reading, so when I saw her looking intently at me, it gave me pause.
"I really admire you and your husband. I have a family member with Down syndrome and it takes a very special person…"
I was torn. Ever since Sarah Kate was a baby, I've wished that people would just Say Something rather than looking at my kids and wondering. But on the other hand, I don't really want to hear that people think I'm special just because I parent two special kids.
We all have a desire to be admired and to feel special, of course, but from that adjective necessarily follows the sentiment that not everyone can do what I do. I don't want that to be the case – I want every parent (and potential parent) to embrace the idea of doing the extraordinary, so that the extraordinary becomes ordinary. I gave her what I hoped was a warm and genuine smile, and told her,
"If there is anything at all special about me, it is because my child made me that way."
Next, she told me of how she had worked with a center near Birmingham for people with cerebral palsy and Down syndrome. I pointed out to her that my daughter had cerebral palsy, which I was certain that she already knew from her statement and her demeanor. She told me about her nephew and we chatted for several moments.
After we left the beach, we drove a little ways down the road to drop in on a friend at a house on the lagoon. She was visiting with like-family friends, and they had invited us over. A passel of young 40-somethings, their offspring, and a few grands spilled all over the lawn and into the water, and when we arrived they greeted us like old friends they hadn't seen in years, even though we knew most of them either barely or not at all.
Because, you see, we had a Golden Ticket.
Despite years of faking extroversion, I'm still an introvert at heart, and walking into a big group like this one would normally exhaust me. But with them, I was at ease. The other three members of my family have no introvert tendencies, but I noticed that even Sarah Kate – my social butterfly – assimilated more quickly and easily than normal. She, like I, didn't seek an opening in which to enter into the group, because the group enveloped her smoothly and easily.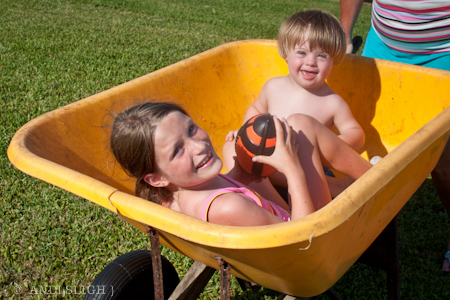 We were greeted warmly while they oohed and ahhed over Nathan – laughing when he darted out of reach, coaxing him into the water, and taking turns pushing he and Sarah Kate around the yard in a wheelbarrow. The older kids pitched a tennis ball to Sarah Kate that she batted over and over with a blue plastic bat. Teenage boys cheered when she hit the ball into the lagoon and sported a good-natured pout when Nathan paid more attention to another of the kids.
We left well before we wanted to go, but much later than we should have, because the kids were exhausted. Before we got very far up the road, Mr. Andi and I talked about how glad we were that we had stopped by, and commented on how nice the kids were – even the teenage boys! We were both surprised and not surprised at all.
Because, you see, they also had a Golden Ticket.
Among this close-knit family of blood and not, was Rileigh. She's a rising fifth grader here in Mayberry, and she has Down syndrome. Among this group, she's just one of the kids, but yet she also is a breed apart from them. I remembered what I had told the lady on the beach earlier that afternoon, "If there is anything at all special about me, it is because my child made me that way."
And I realized that this group – this warm and welcoming group – may be special because Rileigh made them that way.
As much as I talk about how we're more like other families than we are different, and how Down syndrome isn't a huge part of our lives because Nathan is so similar to other children his age, it is always there…an undercurrent in the river of our life.
Who knows to what heights we may climb with Nathan in our lives?