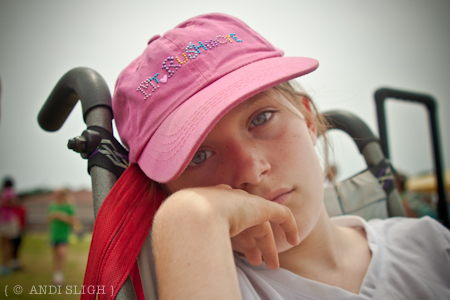 On Friday afternoon, I was aggravated. Sarah Kate had Field Day all day and was exhausted, and I'd had enough of the news, despite the fact that I'm a news junkie. When Mr. Andi arrived home – just in time for Sarah Kate and I to leave for her softball doubleheader – I unloaded on him, complaining about softball shenanigans and toddlers and ridiculous news stories and a load of other things.
It was not one of my finer moments, to be sure.
But in the spirit of honoring commitments, we headed off to the doubleheader and I put on a happy face. …Just one more night and this nonsense is over… When Sarah Kate stepped into the batter's box in the first inning, the score was 2-2. I called out my typical encouragement …Let's go, Sarah Kate! Watch it all the way! Move these girls around!… hoping I could fake it until I could make it.
I felt she had a good shot at a base hit. If there are no runners on base, she'll ground out most every time. But if there are runners on base, like there were in this instance, her odds are greatly improved because the opposing team has more to think about than just throwing her out at first. To my delight, she hit the ball well and made it to first base. Everyone cheered, as they always do when one of the players gets a base hit, but with a little extra "oomph" because it was Sarah Kate.
The next batter came up to the plate.
Another base hit, and Sarah Kate made it to second base. The crowd and players cheered a little louder, because though she's made it to second base before, it hasn't happened often and, well, it's been awhile. She may have gotten faster at running, but the opposing teams have also gotten better at fielding.
The next batter came up to the plate, and I held my breath.
Another base hit, and she made it to third. Yes, it was because the opposing team made a mistake and sent it to the pitcher rather throwing her out at third, but she made it, nonetheless. More cheering, but this time a buzz filled the stands – Sarah Kate had made it to third base! As her mom, I was bubbling with excitement and cautious optimism.
Could she…? Would she…?
The Sky Rockets had now scored five runs; the most allowed in a single inning is six. The next batter came to the plate, and we waited to see what would happen. Another hit! Sarah Kate started toward home, and the crowd started yelling. It seemed like both an eternity and an instant as she made her way down the third base line. She took one last deliberate step onto home plate.
Six runs. The inning was over.
The Sky Rockets crowd went wild. Sarah Kate yanked her helmet off, her face beaming with pride, and continued her running slog toward the dugout, which emptied in seconds as the players ran out to meet her with hugs and cheers. Judging from their reaction, you'd have thought she'd just hit a grand slam home run to win the World Series.
It was glorious. The clouds parted and the sun shone through (figuratively, anyway).
The Sky Rockets went on to win their second game, as well, leaving them tied for first place. The tiebreaker was scheduled for Monday at 5:30 – just before the closing ceremonies for the season. The cloud of aggravation parked over my head again …We shouldn't have to be playing this game. We'd be up by two games if it hadn't been for The Ridiculousness…
Last night, we arrived early for the tiebreaker. Although I've said many times that I really didn't care whether they ended up in first place or last place, at this point I did care. I wanted the girls to have what they had, rightfully, earned, but even more so, I wanted our embattled coach to have what he deserved.
Coach Archie gave the girls a pep talk before the game, and I smiled as I listened to his calm demeanor. He didn't give a fiery speech; he told them to play like they always do. He didn't put pressure on them; he encouraged them. Archie wants to win, but his competitive spirit doesn't overshadow his concern for the girls, first and foremost, which is why we love him and have supported him.
The Sky Rockets were up 5-3 at the end of the first, but Sarah Kate struck out.
The Sky Rockets pushed the lead to 8-3, but she struck out on her second bat, as well – unusual for her. The opposing team closed the gap, making it 8-6. The Sky Rockets widened the lead to 12-6, and Sarah Kate was at the plate with runners on first and third. …If they can just get one more run this inning, they'll win, because Royal Blue won't be able to catch us…
Sarah Kate swung once and missed. She swung again and fouled it off. With two pitches left and two strikes, I was about to come out of my skin. Third swing: contact. Sarah Kate ran toward first and was thrown out.
But the girl on third ran home. 13-6.
At the beginning of the season, we talked up the RBI, because we knew that Sarah Kate would probably hit the ball a lot but rarely to make it to base. It was fitting that she got an RBI to seal the game in the tiebreaker. I told Mr. Andi it was like the perfect ending to a Lifetime movie. 🙂 For the bottom of the last inning, Sarah Kate came in, not as the right fielder, but as catcher.
Closing ceremonies started immediately after the game, and our girls were pumped. Before the team awards began, a single individual award – the President's Award – was announced. It's given to recognize sportsmanship, for the player who doesn't complain and never quits.
Sarah Kate Sligh.
My heart felt like it might explode right out of my chest – not because of the award itself (though that was pretty awesome!), but because of the reaction of Sarah Kate's teammates when her name was announced. They were excited – maybe as much or more so than she was. When she started back toward her team after receiving her award, the girls ran out to meet her, hug her, and congratulate her.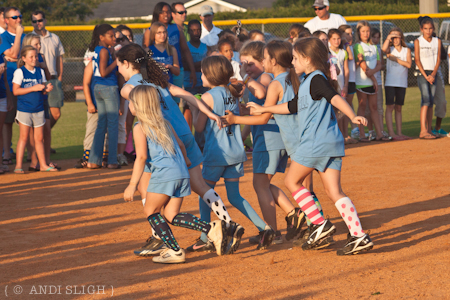 Deciding to let Sarah Kate play softball was tough for Mr. Andi and me. We were afraid…of lots of things. I've repeatedly said that my only goals for this season were for her to enjoy it and for me to survive it.
The reality was much, much more satisfying. And the sun is shining brightly today.