We moved to Mayberry, near the gulf coast beaches, four years ago, and we vacationed on these same beaches for over a decade before that. During that previous decade-plus, we had often talked about moving near the coast, and after a beach trip in late August of 2007, we decided to do it.
I love our little town – it's far enough away from the beach to be removed from the souvenir shops and beach bars, but near enough that we can take off in our car and be settled in a beach chair with a good book and some cold drinks in under an hour. If we only have an hour, we can make do with the beaches on the eastern shore of the bay; the water isn't as clear and pretty as on the gulf side, but it's a body of water with sand and it's less than five minutes away. I walk the dogs there daily during the school year.
We love living in Mayberry.
If there has been one blemish on the experience of living near the beach, it's been the challenge of going to the beach with Sarah Kate. The sand on our coast is a beautiful, deep, soft, pristine white – resembling snow drifts – and hard as heck to walk on if you have issues with balance. It was WORK to take her to the beach, because she needed assistance to walk even a few steps, and the waves – even on the calm days – would knock her over. When she was in the water, someone had to be holding her, and when she was on the beach, she was always sitting or kneeling.
Two years after our relocation, Nathan was born. I know that some folks take their infants to the beach – we saw a few this past weekend – but I'm not one of those folks. I burn easily and I didn't want to take any chances with Nathan. As a result, I only have a few beach photos from 2011, and none from 2008, 2009 or 2010. Once we finally made the decision to move here, we ended up not going all that much, or when we did, we stayed mostly around the pool at a friend's condo rather than venture down onto the sand. It was another one of those Bizarro World things about our non-typical life.
But things are different now.
Last weekend was the first time we've been to the beach as a family of four, without friends or grandparents to help out. Mr. Andi and I juggled chairs, beach bags, a mat, a cooler, and a collapsible sun shelter. Sarah Kate walked by herself, carrying a bucket filled with sand tools. Nathan walked by himself – sort of. The need to carry him had nothing to do with disability and everything to do with preventing him from running off and establishing himself as Mayor of the Beach.
It was the first time in nine years that we got to experience a Typical Family Beach Day. Well, maybe not quite typical. 🙂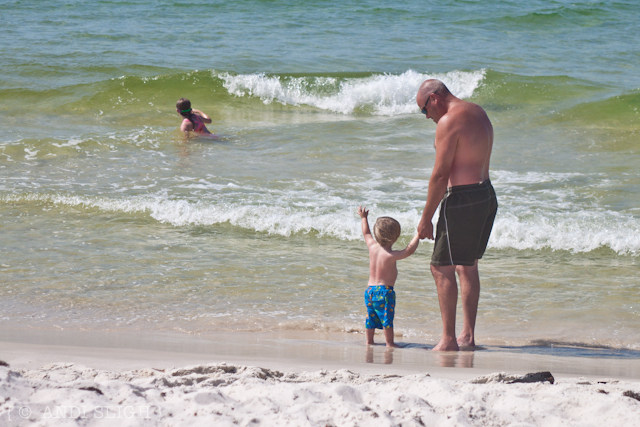 As I sat in my chair under our shelter and watched my family play in the surf and on the sand, I reflected on how far we've come. For years, I both loved and hated the beach: loved it when I could relax with a book alone or go with a large group who could pitch in and help out; hated it when my only option was to take Sarah Kate by myself and struggle. While I still don't think I'll be taking them by myself for awhile – Nathan is a runner, remember – I no longer feel that cerebral palsy is stealing one of my joys, and I no longer wonder if there will ever come a day when that won't be the case. Toddlerhood, unlike cerebral palsy, is temporary.
This summer, I can love the beach again – without hesitation.