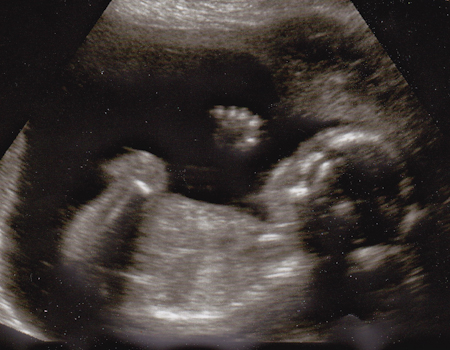 Picture for a moment a young, unwed woman from a poor family who finds out she is pregnant.
Her resources are limited, and the father of her baby has abandoned her. She has the support of her family and friends, but they are also poor. Despite the difficulties she knows she will face, this young woman is excited about her baby. She's excited about becoming a mother, even though she knows it will be a difficult road.
Imagine that our young woman's family and friends have encouraged her to get prenatal care. She finds a doctor who accepts Medicaid, which she now qualifies for because of her pregnancy and income level. She shows up for an early second trimester appointment with a male physician (who isn't poor – remember that he's a doctor), sees her baby on the ultrasound machine, and then the doctor, noting her young appearance and her Medicaid coverage, says to her:
"When do you want to schedule a termination?"
I believe that most people would be enraged that a doctor would presume to know what this young woman would choose – particularly a male doctor who has never given birth to a child and who has no personal knowledge of the support system she has. While we may have deep reservations about her ability to care for her child, we recognize that it's still her choice to make. But scenarios like this one occur as a matter of routine when the issue at stake is Down syndrome, rather than poverty.
Doctors with no experience raising a child with Down syndrome have become gatekeepers for which children will be allowed to live.
Much of the information that these doctors provide to parents is outdated or misleading, and rarely are parents encouraged to talk with other parents who actually have children with Down syndrome.
Some women walk into their doctor's office and boldly state that if their baby is diagnosed with Down syndrome, they intend to abort, just as many poor young women walk into abortion clinics and announce their intention to abort. Since the landmark decision of Roe v. Wade, our laws have afforded women that right.
But many women walk into their doctor's offices excited about the child they are carrying.
Perhaps they are naive to the possibility that their child could be born with an extra chromosome, but many young women are also oblivious to the difficulties of living life as a single mom. Infinite wisdom and foresight are not requirements for childbirth – if they were, none of us would have been born.
The International Down Syndrome Coalition for Life (IDSC for Life), despite its pro-life sounding name and its tagline, "All Life is Precious" is not an anti-choice organization – they are a pro-Down syndrome organization. On the website, the Coalition describes the meaning behind the name as follows:
Why is our name IDSC for Life? INTERNATIONAL: Because we have members from all around the world. DOWN SYNDROME: Because we love someone who has Down syndrome. COALITION: Because we are a group that stands together loving them. FOR LIFE: Because we want their lives to be treated with dignity and respect from the moment their diagnosis is known, and through out their lives. This includes respecting their mother too. Pressuring a mother to end the life of her child, because the baby has Down syndrome, is not showing respect. Not for the mother, not for the child.
The Coalition also makes it clear through the mission statement what the focus is – people with Down syndrome and their families:
IDSC for Life is dedicated to serving individuals with Down syndrome from conception throughout their lives. We will achieve this by supporting families who have been given a prenatal diagnosis of Down syndrome. We direct families to accurate and up-to-date information about Down syndrome. We extend our heartfelt compassion, and hope and healing to parents who who were pressured to terminate, and ended their pregnancy because of a Down syndrome diagnosis and later regret that decision.

The IDSC does not attach itself to any specific religion or political party.

We have members are who are pro life, pro choice, and those who are neutral on the subject of abortion.
The IDSC for Life attempts to balance the overwhelming negativity with positive information from real people in the Down syndrome community.
The captioned photo of Nathan that went viral this week on Facebook attracted many positive comments. Unfortunately, some people saw the image as a political statement against choice. One commenter, after Mothering Magazine shared the image on their page, stated, "Mothering Magazine, I support a woman's right to choose and so should you." This commenter either missed the point entirely, or jumped to an unnecessary conclusion based on her support of abortion rights.
The image wasn't a statement about abortion at all – it was a statement about how Nathan is much more than his diagnosis.
Another commenter's critique of IDSC for Life was that they don't provide enough information about the serious aspects of Down syndrome. To that I would respond, why should they? Negative information about Down syndrome is in abundant supply. IDSC for Life's purpose is to counterbalance the negative with the positive.
I am blessed to have a complex tapestry of friends all over the country who stand on both ends of (and at every point in between) the political spectrum, and for that I am thankful, because I don't live in an echo chamber. My friends, no matter how much I may disagree with them, are my friends FIRST, making it much harder to view them as The Enemy. I've never been prouder to have these polar-opposite-of-me friends than I have been these past few days, because many of my (vehemently!) pro-choice friends have shared Nathan's captioned photo with their friends. Why?
Because they know that a choice made under duress with inaccurate or misleading information is no choice at all.
I may passionately disagree with the pro-choice camp on whether abortion is right, but by working together from this common ground, we can spare women the trauma of being pressured to abort, save the lives of babies with Down syndrome, and comfort heartbroken women who feel they made the wrong choice about her child with Down syndrome.
People are more important than an ideology. By loving people first, we can accomplish so much.
Isn't it worth reaching across the aisle?
Further Reading on the IDSC for Life:
Beyond Labels
To Test or Not to Test