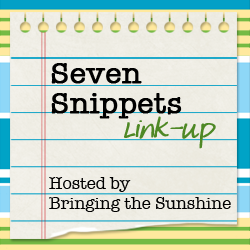 Kelley, a longtime reader of the blog, emailed me this week to let me know that her daughter, Sydney, won a speech contest inspired by her baby sister, Lacey, who has Down syndrome. I wish I could have been there to hear her speak! Click here to see the article that was in their paper about Sydney and her speech. Siblings have the power to change the world.
I made a vow (that I'm sure I'll soon break) not to let Sarah Kate watch too much TV while she's home this summer. A few days ago, while Nathan was sleeping, I walked into the living room after having been on the computer for about an hour. Sarah Kate's eyes were glued to the screen, and I opened my mouth to tell her to turn off the Disney Channel (other than Phineas and Ferb, I pretty much despise everything on Disney that comes on after noon). Then I realized she wasn't watching Disney – she was watching the Women's College Softball Super Regionals on ESPN.
I kept on walking.

While Sarah Kate was at swim practice on Wednesday, I took Nathan and the dogs for a walk down by the bay. A pickup slowed down beside me and when I looked over at the occupant, a man in a ball cap smiled and said, "I admire your spunk!" I'm pretty sure that was code for "I think you're nuts." A westie, a schnauzer-ish, and a wild toddler. It does sound kinda crazy, and I'm sure it looks even more daunting.
Little does he know, it's about the best half hour of my day.

Remember my blogging friend, Shasta, of Outrageous Fortune? Well, she's got another book out, but it's VERY different from her last novella
. Shasta has written a children's book (cool!), but what's even cooler is that 100% of the profits from the book will go to her son's medical treatments. Malachi has benefited greatly from the Anat Baniel Method, but it's very expensive. Consider helping her out by either buying a book or backing the project.
Remember that certain boy dancing to that certain song by Green Day, Boulevard of Broken Dreams? Well, now he's not just dancing to it – he's singing it, too. Part of it, anyway. The "Ah-ah. Ah-ah. Ah-ah…" part. He even knows exactly when to come in.
Yes, I'm a wee bit embarrassed that my two year old loves Green Day. Don't judge me.
Someone please tell me that I'm not the only one whose kid makes a liar out of them during therapy. When the speech therapist came this week, I proudly told her that he knew what order to place the stacking rings on the spindle. He totally didn't do it. Then she asked if he liked puzzles, to which I answered that he didn't but I'd get one out and we could try it. He played with those two puzzles for most of the session.
Oh, and he also said a bunch of new words while she was here: cow, sheep, horse, giraffe (!), and a few others, despite my downplaying his vocabulary achievements.
Stinker.

We still don't know what Stella is, though we have landed on schnoodle (schnauzer bred with poodle) until and unless another, more viable, alternative presents itself. She has a cropped tail, so I'm pretty sure she was bred to be something. Mr. Andi has dubbed her "The Purpose Driven Mongrel."
If you're the praying sort, please say a prayer for our friend, Rileigh Glass. I updated today's post with an eighth snippet because I got a call from Mr. Andi this morning that Rileigh, mentioned in Tuesday's post, has been hospitalized and is in a medically induced coma and on a ventilator. She was sick when we were there on Tuesday, but we weren't expecting this. Please pray!
Have a great weekend!
Link up your own Seven Snippets below! Be sure to link to your post, not the main page of your blog.
Looking for a Seven Snippets template or graphic? Go here for some quick tools to create your own Seven Snippets post.
This post is also linked to Conversion Diary's 7 Quick Takes.