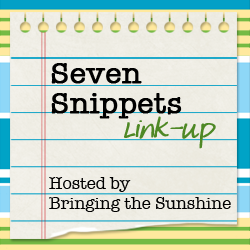 First things first – if you're new here, welcome! Since Nathan's image hit the interwebs on Monday, I've noticed a surge in traffic, so I want to say THANK YOU to everyone who shared the photo or decided to come visit after seeing it in their News Feed.
Bringing the Sunshine is a blog about the life of a family with two kids who have special needs. Through words and images posted here, I strive to inform and inspire all types of people and advocate for individuals who are differently-abled. I hope you'll find something here that meets your needs. Be sure to sign up for updates via email or RSS feed, and to like us on Facebook.
As of my bedtime last night, Nathan's IDSC for Life photo had been shared over 21,000 times on Facebook. I can't even begin to guess how many people actually saw it. I'm having a hard time wrapping my head around it all. But I'm happy, because IDSC for Life has gained thousands of new followers this week!
Friends of mine have reported seeing Nathan in Missouri, California, Canada, Kentucky… Several have told me that he popped up in their feed, posted by friends that have never heard of us, and they had to do a double take because they weren't expecting to actually KNOW the kid in the photo. Maybe Nathan will get that high value modeling contract now…then I could pay someone to clean my house and I'd be able to blog every day!
It's been funny to me to see how many of the people commenting on the image think Nathan is a girl! Does he look like a girl to you? Maybe it's the fact that he appears to be still and quiet, which of course in real life he is not. At all. Ever. Unless he is sleeping. Which he doesn't do nearly enough.
Many individuals shared Nathan's captioned image, but it was also posted by "Mothering" magazine on their page. Their audience was not quite as receptive as that of the IDSC for Life's fans, but it still has received an overall positive reaction. I was bracing myself for the worst, to be honest. But for every "this baby is f–ing ugly y is it in my news feed" there were 100 comments saying "she" was beautiful, cute, sweet, and precious.
I can live with that.
Some of the comments on Mothering's page have been interesting. One commenter said, "Mosaic Downs are less affected than every cell having the defect. This child looks like a mosaic. Those are the ones that have the faculties to act in the tv programs. Severe Downs have many horrible problems early, can barely speak, and often die young of leukemia." In my experience, almost no one knows what mosaic Down syndrome is (I had to explain it to my stepmother just this week), so this commenter knows at least a little about Ds, but…then he went on to assert a bunch of "facts" that just aren't true.

It's also been interesting to see people jump to conclusions about the IDSC for Life being a bunch of "right wingers". As soon as you use the phrase "for life" people who are pro-choice get their hackles up (and just for the record, I'm not saying it doesn't go both ways…) Diane Grover, founder of IDSC for Life, and I had a very productive comment conversation on the Mothering thread with a woman who is pro-choice about the IDSC for Life's position. The exchange is what inspired yesterday's post on common ground – that wasn't the piece I initially set out to write. Take a few minutes to read it if you haven't seen it already.
Time is running out to enter my BabyLegs giveaway!
If not, today is your last chance! If not, what are you waiting for? Know anyone who'd like to win a grab bag of BabyLegs? Then send them this way! Note: This giveaway ends today, June 29.
Have a great weekend!
Link up your own Seven Snippets below! Be sure to link to your post, not the main page of your blog.
Looking for a Seven Snippets template or graphic? Go here for some quick tools to create your own Seven Snippets post.
This post is also linked to Conversion Diary's 7 Quick Takes.